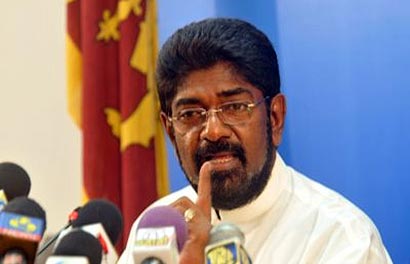 Mass Media and Information Minister Keheliya Rambukwella yesterday said it was regrettable that the main opposition UNP was trying to defend spurious and scurrilous websites which slander and defame even personages of the calibre of the Most Venerable Mahanayake Theras.
"When certain web sites are making baseless allegations and slinging mud at honourable and respected persons in society including the venerable Mahanayake Thera, UNP leaders such as Tissa Attanayake and Mangala Samaraweera were trying to defend such web sites" the minister said.
He said it is most regrettable to witness the UNP trying to defend such web sites which had become parasitical causing damage to the country and society, when the government was trying to take some action against them. Addressing a press conference at his office in Kandy,
Minister Rambukwella said the locations from which these web sites operate were unknown and they are most probably operating from overseas including USA and Britain.
The minister said there are 182 registered newspapers and magazines, 48 registered Radio channels and 21 registered TV channels in the country and only one newspaper establishment two radio channels and TV stations which are linked to the government.
This showed that there is maximum press freedom in Sri Lanka under the Mahinda Rajapaksa government.
(Daily News)