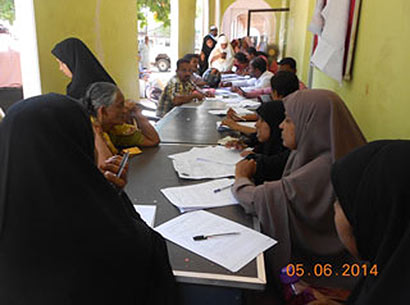 The Missing Persons Commission concluded its fourth round of public sittings in Batticaloa today with 195 people making submissions and 216 new complaints registered during the four-day period. The Commission also recorded evidence in relation to the Kurukkalmadam massacre where the Liberation Tigers of Tamil Eelam (LTTE) allegedly killed 163 Muslims in 1990s.
The sittings were held at the Kattankudy Divisional Secretariat June 6-7 and at the Manmunaipattu Divisional Secretariat June 8-9.
The Commission had previously conducted public sittings in January, February and March this year in Killinochchi, Jaffna and Batticaloa respectively. To date, 18,590 complaints have been received, inclusive of approximately 5,000 from relatives of missing security forces personnel. The Commission has thus far inquired into 462 complaints, which are being analysed for further investigations through an independent investigation team.
The Commission appointed by the President on Aug. 14, 2013, was initially mandated to inquire into and report on alleged abductions or disappearances during the period of 1990 to May 19, 2009. In March this year, the time period of the Commission was amended to cover the period from 1983 to 2009, upon the request of the Commission.
The Commission recently launched an official website to provide information on its activities to the public. The site can be accessed at http://www.pcicmp.lk/.
The work of the Missing Persons Commission addresses recommendation 9.51 of the Lessons Learnt and Reconciliation Commission (LLRC). Recommendation 9.51 states the following: "Appoint a Special Commissioner of Investigation to investigate alleged disappearances and provide material to the Attorney General to initiate criminal proceedings as appropriate. Provide the Office of the Commissioner with experienced investigators to collect and process information."
The Commission will hold its next round of sittings in Mullaitivu.
(Source: Presidential Commission to Investigate into Complaints Regarding Missing Persons)