UNP TO PRESENT A PRIVATE MEMBER'S BILL TO WIN BACK SARATH FONSEKA'S CIVIC RIGHTS
Posted by Editor on May 24, 2012 - 7:31 am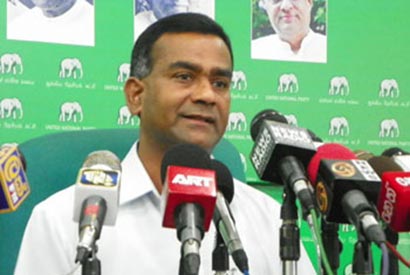 Onlanka News – By Walter Jayawardhana
Sri Lanka's main opposition the United National Party has appointed a committee chaired by Wijedasa Rajapaksa to draft a private member's bill to win back the civic rights  of the former Commander of army Sarath Fonseka , said the party's General Secretary, Tissa Attanayaka.
The private member's bill will seek to win back the Commander's military title, General and demand the government to return all his medals he had won through a hard military career  Attanayaka said.
The party secretary said the UNP is glad he is out of jail and his party had always felt that arrest of General Fonseka and the incaseration was against natural  justice and the civil and political  convention signed on June 11 1980 by Sri Lanka.
He was of the opinion that robbing a man of his pension hard earned until his retirement for the reason he contested the President is barbaric and the private members bill would seek to rectify it. All his civic and political rights  should be reverted back to him.
He said 210 soldiers have been expelled from the army for associating with their commander with another 20 soldiers who were providing security for him. All those should be taken back to the army.
The other members of the committee  are Laxman Kiriella and Ajith Perera.
Latest Headlines in Sri Lanka