Unveiling of national economic policy, incentives to foreign investors soon: PM
Posted by Editor on August 17, 2016 - 11:08 am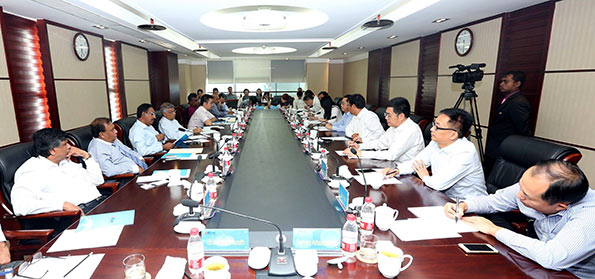 Sri Lanka's national economic policy and the attended opportunities and incentives offered to local and foreign investors will be unveiled very soon, Prime Minister Ranil Wickremesinghe said.
The Prime Minister disclosed this during a special discussion with representatives of the Chong Jing Foreign Trade and Economic Cooperation Company during his tour of North East China.
The Chong Jing Foreign Trade and Economic Cooperation Company administered by the government of the Chong Jing Megapolis is among the 100 leading multinational organizations in China as well as one of the 500 leading service enterprises in China.
Chong Jing Foreign Trade and Economic Cooperation Company chairman Yu Yang said once Sri Lanka unveiled its national economic policy, his company would provide all assistance and encouragement to entrepreneurs in the Chong Jing Megapolis to branch out and invest in Sri Lanka.
He said his company was already mulling the possibility of undertaking construction work in the proposed Hambantota Industrial Zone.
They have already paid attention towards setting up canned fish, gem and jewellery production industries as well as warehouses for export goods in the Hambantota Zone.
Yu Yang said he hoped to submit plans for building the Hambnatota Megapolis by utilizing the wide experience his company commended in the engineering and construction fields.
Prime Minister Wickremesinghe said that since Sri Lanka possessed a limited market, it hoped to enter into free trade agreements with various countries in the international field.
This would enable investors to reach out to a wider market through Sri Lanka, the Prime Minister said.
Chinese Ambassador to Sri Lanka Yi Shiang Liang, who was associated in the discussions, said China should lend all assistance to Sri Lanka to achieve massive economic development.
He said Sri Lanka – China bilateral relations was the best example of the close diplomatic relations existing between the two countries.
(Government News Portal)
Latest Headlines in Sri Lanka