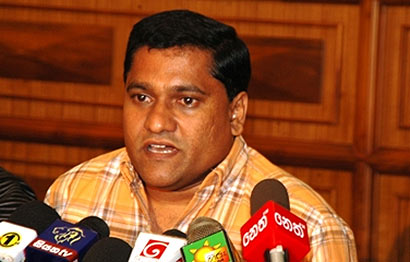 Constituents of the UPFA yesterday decided not to vote for the 19th Amendment to the Constitution Bill of the government.
DNA Parliamentarian Vijitha Herath, who attended the party leaders' meeting held at the Parliament complex told journalists that the SLFP-led UPFA had informed of its decision at the meeting.
The final decision whether the debate on the 19th amendment Bill previously scheduled for today (21) and tomorrow (22) would be taken at a party leaders' meeting to be held this morning, Herath said.
The MP said Opposition Leader Nimal Siripala de Silva insisted that the 20th Amendment to the constitution envisaging reforms to the electoral system be presented together with the 19th Amendment.
"Media reports say the UPFA leaders have pledged their support for the 19th Amendment during their meeting with President Maithripala Sirisena on Sunday. Now a day after they have changed their mind," MP Herath said, adding that the group of MPs supporting the comeback of former President Mahinda Rajapaksa had resolved not to support any Bill moved by the incumbent government. "Their aim is to scuttle the 19th Amendment. That is why they commenced a protest in Parliament," Herath said.
"Now the passage of the 19th Amendment to the constitution is doubtful," he added.
Meanwhile, Media Minister Gayantha Karunathilake said the Bill would be taken for debate as scheduled whether the Opposition liked it or not.
(The Island)