UPFA never demanded MR be PM candidate
Posted by Editor on June 23, 2015 - 8:55 am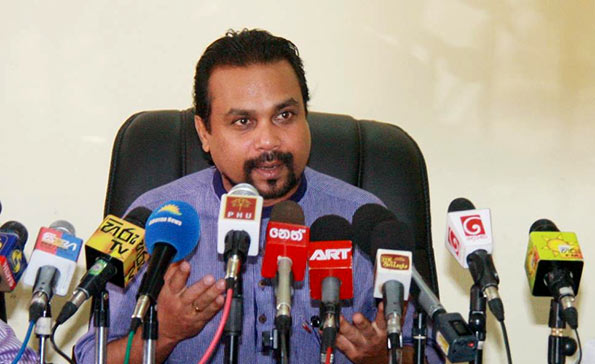 The UPFA never demanded or asked anyone to name former President Mahinda Rajapaksa as the next Prime Ministerial candidate, give him nominations or anything else. It is a section of the SLFP which are making these demands, National Freedom Front leader MP Wimal Weerawansa said.
Weerawansa addressing a press briefing at Abhayaramaya, Colombo yesterday, said it is former President Rajapaksa who should decide whether he should contest or not. "If the Sri Lankan public wants him, nobody can stop it. It is funny to see a person who did his best to bring a person into power who had been repeatedly defeated for 29 times, now talking about the former President who lost only once," he said.
Weerawansa said former President Ranasinghe Premadasa and then Defence Minister Ranjan Wijeratne had the backbone to deal with Vardharaja Perumal who made reference to a 'North and East Government', but today the Foreign Minister does not have a backbone to do the same when the same term is used by the Northern Chief Minister C.V.Vigneswaran. "Intelligence officers are being questioned by the FCID. About 300 Tigers are to be released. We took less than Rs. 260 billion as loans for the entire 2014 but this government has already taken over Rs. 378 billion as loans for the past five months," the MP said.
Weerawansa said a new house is being built at a cost of over Rs. 290 million joining two houses used by MPs Dr. Sarath Amunugama and Keheliya Rambukwella for the use of the President.
"The President's House is there for him to use and nobody has stopped him from using it. It is not there for the use of rats and cockroaches. Mahindyodaya Technical Laboratories built by the previous regime are opened by politicians after removing the name board. All camps in the North will be removed after the general election," he said.
NSSP Leader MP Vasudeva Nanayakkara said if Prime Minister Ranil Wickremesinghe cannot work with the present Parliament he should resign.
"It is good if he can walk out before he is defeated through the No Confidence Motion. Nobody is preventing him from walking out," he said.
MP Mahinda Yapa Abeywardena said the government is not bringing the Right to Information Bill to prevent people from getting information about the latest developments of LTTE activities such as collecting arms etc aimed at Sri Lanka."National security is in grave danger but people do not have a channel to know about such information. There is no other government which robbed so much of funds during a short period. The people cannot afford food items. The price of coriander is Rs. 300. Recently Chathura Senaratne challenged the former President and it is similar to a piglet chasing a lion," he said.
(Daily News)
Latest Headlines in Sri Lanka