US court finds hedge fund founder guilty
Posted by Editor on August 10, 2011 - 9:46 am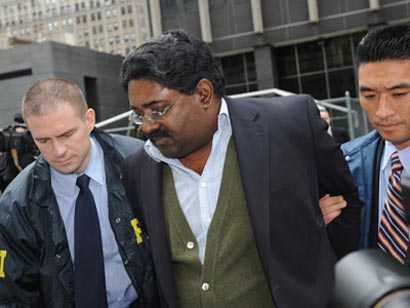 Raj Rajaratnam, the founder of Galleon Group hedge fund, has been found guilty of 14 securities fraud and conspiracy charges by a federal court in New York City, marking a watershed victory for the US government's newly aggressive prosecution of insider trading.
Rajaratnam will remain free on bail under house arrest with electronic surveillance until his sentencing on July 29, US District Judge Richard Holwell ruled after the jury delivered its verdict on Wednesday. He faces around two decades in prison.
The Sri Lankan-born Rajaratnam, the central figure in what the government has described as the biggest ever probe of hedge fund insider trading, sat expressionless between his lawyers while a court official read the verdict.
His chief lawyer, John Dowd, said that he would appeal the prosecution's use of secretly-recorded phone calls. After a four-day mini-trial called a Franks hearing last October, the judge denied defence efforts to suppress the phone tap evidence.
Wiretaps
Prosecutors made effective use of FBI wiretaps that recorded Rajaratnam talking to those the government alleged had given him illegal tips.
One of those alleged tipsters, Rajat Gupta, was a former board member at the powerful bank Goldman Sachs. Gupta alerted Rajaratnam to an impending $5 billion investment in Goldman Sachs at the height of the global financial crisis in September 2008, prosecutors said.
Rajaratnam's trial began on March 8, five months after his arrest at his Manhattan apartment, and the jury deliberated 12 days before delivering its verdict. Rajaratnam did not testify in his own defence.
Under the law, Rajaratnam could face up to 25 years in prison, but prosecutors said they would seek 19 and a half.
US Attorney Preet Bharara, the chief federal prosecutor for Manhattan, noted in a statement that Rajaratnam is one of 35 people to be convicted of insider trading.
aljazeera
Latest Headlines in Sri Lanka