US diplomats heading to Sri Lanka
Posted by Editor on February 6, 2012 - 1:40 pm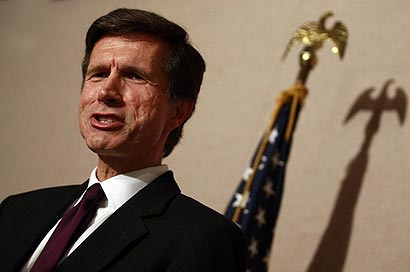 Three American diplomats will travel to Sri Lanka for talks about alleged civilian casualties during the government's military campaign to defeat the Tamil Tigers, an official said, AFP reports.
The visit comes ahead of a United Nations human rights council meeting in Geneva, which starts later this month, where Washington hopes to move a resolution pressing Sri Lanka to probe alleged war crimes.
A government source in Colombo, who declined to be named, said US Assistant Secretary of State for Central and South Asian Affairs, Robert Blake, was expected next week.
"The US is mounting pressure on us this time, but we should be able to get over the difficulties because we have strong support from India," the government source said.
A diplomatic source confirmed that Washington was engaging with Colombo ahead of the Geneva rights council session, which runs from February 27 to March 23.
There was no immediate comment from the US embassy or Sri Lanka's external affairs ministry about the latest US initiative to ramp up pressure on Colombo.
Sri Lanka has managed to avoid censure at previous human rights council meetings thanks to the backing of Russia and China. India, the island's closest neighbour, has also backed Colombo.
Rights groups have said up to 40,000 civilians were killed in the government's military campaign to defeat Tamil Tiger rebels, which they completed in May, 2009.
Sri Lanka denies that a single civilian was killed by its troops.
However, a government-appointed panel, which probed the reasons behind the failure of a 2002 truce, reported in December that civilians may have died as a result of military action and called for an independent investigation, AFP reports.
Courtesy: Ada Derana
Latest Headlines in Sri Lanka