US Pentagon's report mentions China's motive behind Hambantota
Posted by Editor on August 20, 2018 - 2:44 pm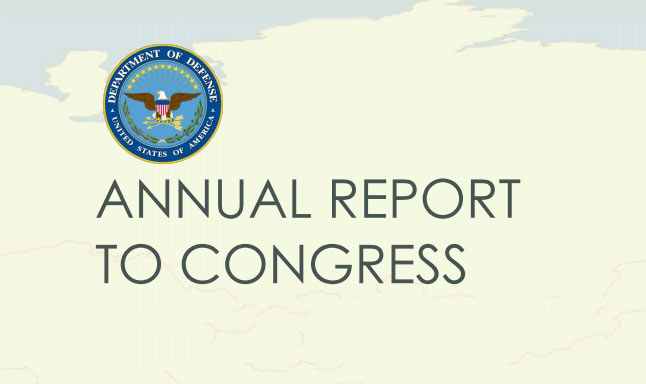 The Pentagon has released its annual report on China's military capabilities, and it noted several developments that could be of concern for U.S. military planners. Notably, China's bomber force has been much more active in "overwater" training flights in "critical maritime regions," and the Pentagon assesses that these likely include trainings for attacks on U.S. targets or U.S. allies. In addition, the report notes, China is becoming a true "nuclear triad" nation, with nuclear weapons platforms on land, under the sea and in the air.
South China Sea bases
The Pentagon assesses that China did not engage in additional land reclamation in the South China Sea in 2017, but the PLA did invest in more infrastructure on its existing man-made island bases. While these land features to not support China's legal claim to the surrounding waters, as a practical matter the PLA will be able to use them to increase its presence and its ability to enforce these claims on the ground, the report suggests.
The construction activity at these bases included aviation facilities, port facilities, fixed-weapons positions, barracks, administration buildings, and communication facilities. No permanent large-scale air or naval presence has been observed.
The Pentagon also noted the "salami-slicing" strategy of incremental advancement that has characterized China's expansion in the region. "China continues to exercise low-intensity coercion to advance its claims in the East and South China Seas," the Pentagon asserts. "China uses an opportunistically timed progression of incremental but intensifying steps to attempt to increase effective control over disputed areas and avoid escalation to military conflict."
The growing PLA Navy
While China is scaling back its Army, it is investing heavily in its naval capabilities. The PLAN commissioned three of its modern Type 052D missile destroyers in 2017, and it continues to produce the older Type 054A. It is also building a new, larger guided missile cruiser class, the Type 055. The newer vessels are fitted with the new YJ-18 anti-ship missile or the YJ-12 supersonic anti-ship missile. China is also investing in surveillance capabilities to support over-the-horizon targeting for these advanced surface strike systems.
China's bomber forces
The report also notes an uptick in PLA Air Force bomber activity that could be interpreted as a threat to American interests. "Over the last three years, the PLA has rapidly expanded its overwater bomber operating areas, gaining experience in critical maritime regions and likely training for strikes against U.S. and allied targets," the report said. In addition, it notes that China's Air Force has been "re-assigned a nuclear mission" after a three-decade hiatus. "The deployment and integration of nuclear capable bombers would, for the first time, provide China with a nuclear 'triad' of delivery systems dispersed across land, sea, and air," the report notes.
Previous defense media reports suggest that China is developing a new, nuclear-capable, air-launched ballistic missile, which would be deployed on a new strategic bomber platform. An additional air-launched ballistic missile may be under development in a conventional-warhead, anti-ship configuration – the so-called "carrier-killer" ballistic missile.
Military dimensions of the Belt and Road
The Pentagon also warned explicitly that China's "Belt and Road Initiative" (BRI) is intended to shape other nations' interests to align with Beijing's, and BRI projects could cause these nations to become dependent upon Chinese capital. The report noted the example of the port of Hambantota, Sri Lanka, which was recently leased to a Chinese state firm on favorable terms in exchange for debt reduction.
– Agencies
Latest Headlines in Sri Lanka