Vaiko vows to continue stir against training for Sri Lankan officers
Posted by Editor on June 26, 2013 - 11:35 am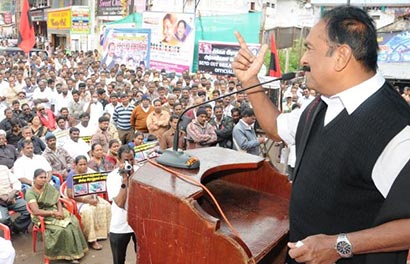 Political parties and Tamil outfits will stage protests if the Centre continues to impart training to officials of the Sri Lankan defence forces at Defence Services Staff College at Wellington in the Nilgiris, said Vaiko, general secretary of the Marumalarchi Dravida Munnetra Kazhagam (MDMK) on Tuesday.
He was addressing a meeting by political parties and outfits to condemn the Union government for accommodating two Sri Lankan military officers, Commander Bandara Disanayake and Major Harishchandra Hettiarchige, at the DSSC for 29 days from May 27 for a 10-month training programme that began on June 3.
The Centre hosted them despite opposition from various quarters, disregarding the sentiments of Tamil people, especially after the island nation carried out "genocide" in the name of a war against terrorism.
It was after 29 days and the announcement of a large-scale picketing protest, and just a day before the scheduled agitation that the Centre sent back the officers to Sri Lanka.
"Sri Lankan officials should not be accommodated anywhere in the country," he added.
Dravidar Viduthalai Kazhagam president Kolathur S Mani, Thanthai Periyar Dravidar Kazhagam general secretary K. Ramakrishnan, Merchants Federation president Vellaiyan and a host of others spoke. (Source: The Hindu)
Latest Headlines in Sri Lanka