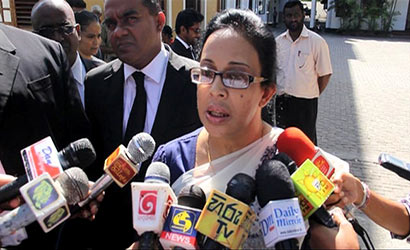 Former DIG Vass Gunawardena's wife, Shyamali Priyadarshani Perera, today alleged that her husband was arrested under "false charges" due to him spearheading an investigation into a conspiracy to sell 100kg of gold belonging to the treasury and its direct links to the former First lady Shiranthi Rajapaksa.
Speaking to reporters after filing a complaint with the Bribery Commission this morning, she said that her husband had received information through the army intelligence unit regarding an attempt to illegally sell 100 kilograms of gold, worth around Rs 500 million, belonging to the state treasury.
Shyamali Perera claimed that her husband, who was then the DIG Colombo (North), had revealed to her that the investigation had uncovered the involvement of First Lady Shiranthi Rajapaksa and that he was ordered to halt the investigation and push it aside by then Western Province DIG Anura Senanayake.
However, she stated that former DIG Vass Gunawardena had received numerous threats after certain media had reported the incident and that one day the Chairman of the Sri Lanka Broadcasting Corporation (SLBC), Hudson Samarasinghe, had visited their home asked her husband to make a statement that Shiranthi Rajapaksa was not involved in the case.
Shyamali Perera stated that several days later steps were taken to arrest her husband and son under "false charges" and that she continued to receive threats while once a grenade was hurled at their home.
She added that her husband had instructed her to lodge a complaint regarding the matter as the new government is probing incidents of corruption and misuse.
Shyamali Perera also said that her husband, Vass Gunawardena, has decided to reveal many secrets known by him and assist in investigations in the future.
The ex-DIG, his son Ravindu Gunawardena and four other suspects have been charged with the murder of businessman Mohammed Shiyam which took place in the Dompe area on May 22, 2013. He was arrested on June 10, 2013 while the case is still being heard by the Colombo High Court.
Meanwhile Vass Gunawardena's wife Shyamali Perera was accused of threatening the witnesses of the businessman murder case.
She was ordered to appear before court for allegedly threatening and intimidating witnesses in the case.
In 2009, she was arrested and remanded in connection with the assault on an IT student.
(Courtesy: Ada Derana)