JVP committee to probe 'Rajapaksa' atrocities
Posted by Editor on January 26, 2015 - 10:29 am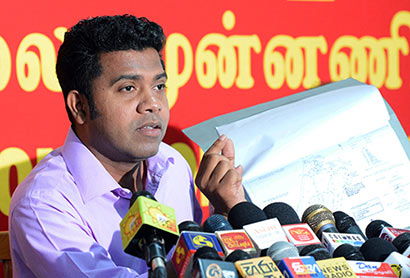 A committee to probe those who have been penalized and subjected to unfair treatment by Rajapaksa regime' has been established by the JVP to collect data regarding those who have been penalized and subjected to unfair treatment during the tenure of Rajapaksa regime and to find ways and means of compensating them said the Member of the Central Committee of the JVP and its Member for Western Provincial Council Dr. Nalinda Jayatissa.
He said this at a press conference held at the head office of the JVP at Pelawatta today (25th). The Member of the Western Provincial Council Laxman Nipunarachchi and the Colombo Municipal Councilor HemanthaWeerakone participated representing the 'Committee to probe penalization & discrimination by Rajapaksa regime'.
Speaking further Dr. Jayatissa said, "Mahinda Rajapaka regime was dislodged and a new President was elected with immense hopes. Information regarding plunder of state assets, frauds, corruption in various sectors is being revealed. The JVP, while functioning within the National Executive Committee, would pressurize in the Parliament as well as outside it to take legal action against perpetrators. It is important to set up a mechanism to prevent unjust acts and various dealings that could be carried out using political and state powers. We are already taking maximum mediation to get the independent commissions as one of the pillars of this mechanism.
Meanwhile our party has formed a committee to collect data regarding those who have been penalized and subjected to unfair treatment by Rajapaksa regime and to find ways and means to compensating them. We have named it the 'Committee to probe penalization & discrimination by Rajapaksa regime'. The intention of establishing this committee is to get information regarding thefts, frauds, corruption and crime committed by the President, Ministers, Parliamentarians, members of provincial councils, divisional councils and local councils and to get information regarding those who were affected by such atrocities. It is intended to collect information under several sectors:
1. People who have lost their lands
People in Somawathiya, Palawatta, Ampara-Uhana, Sevanagala, Welioya have been denied their traditional lands of cultivation. Many people in the North and eh East have lost their lands, specially for government politicians. We expect to get information with facts regarding this serious situation.
Also, information is being received regarding lands and properties in Colombo seized by the government on various pretences. There are a large number of people who have lost their lands at Borella, Wanathamulla, Bakerywatta, Thalawathugoda and areas such as Weras Ganga Developing Project. A good example is a land opposite Castle Street Hospital that has been taken over by the President stating it was necessary for a project of the Urban Development Authority. Despite the land was taken over as an urgent matter, the properties of politicians' associates have been avoided when the land was taken over. The land was one that had been planned to construct a building with the permission from Colombo Municipality and the Ministry of Defense.
2. Those who have lost property and businesses
Luxury houses near Colombo city have been seized using state power. We have received many complaints regarding this. A full investigation regarding this should be carried out. Also, several businesses that are involved in providing services and established after proper tender proceedings have been illegally handed over to Rajapaksa associates. Out of the 21 transport facilities supplied by Ebert Silva Company to the Airport and 'SriLankan' Airways 10 have been taken over and given to Rajapaksa henchmen. Also, payments relevant to projects carried out by Road Development Authority have not been paid. When payments for such projects were questioned Gotabhaya Raajapaksa had intervened directly and had threatened those who have carried out the projects.
It is interesting to note the special statement given by Mr. Lalith Kotalawala regarding financial transactions. It is stated that Rs.8000 million from Ceylinco Shriram and Rs.13000 million from Golden Key have been plundered. Also, the businesses of Sakvithi and Danduwm have been destroyed and their money and assets have been seized.  It is revealed that a large scale racket has been carried out by investing money from ETF and EPF in Colombo share market.
3. State employees and professionals
There are many reports regarding punishment transfers, obstruction of duties carried out through letters and documents from local politicians to Namal Rajapaksa and resigning from employment due to such intimidation.  Vice-chancellors to universities have been appointed outside those recommended by the senate but only with the direct intervention of Mahinda Rajapaksa. The issue regarding state employees and professionals is similar. There are many reports regarding taking of bribes in giving appointments and promotions.
4. Korean employment for youths
A large number of people have been sent who have not sat the examination held for Korean employment thereby denying the opportunity for many who have got qualified for such jobs. It is clawer that this indiscrimination has been caused by Namal Rajapaksa and those around him. It is reported that bribes have been taken even to give a hospital labourer's appointment.
5. Journalists' issues
A large number of people in media institutions relinquished their employment due to various interferences during Rajapaksa regime. Many were also subjected to intimidation and assault. There are reports that there are many who lost their employment in SLRC, ITN, SLBC and in Lake House immediately after the 2010 presidential election.
6. Murdered and abducted
Special attention should be drawn to killings at Rathupaswala, Katunayaka and Chilaw. Clashes were created at Dharga Town in Beruwala and properties were damaged. There are many reports regarding disappearances in the North after the end of the war. We would mediate in these matters after getting detailed information.
7. Students' issues
There is bribe taking and pressure from politicians throughout the process of admission to schools to results of AL examination. There have been instances when Namal Rajapaksa's letters could admit students to universities. Vice-cchancellors and Rajapaksa henchmen in the university sector went far as getting students imprisoned. Also, students were subjected to various political punishments.
8. The issue of artistes
Political power was used to get tele dramas telecast without waiting in a queue. In the cinema sector political clout was used to get more copies of films, instead of the limited number stipulated, displayed and also to jump the queue.
9. Politicizing sports
Appointing ministers to sports associations was a normal procedure. However, sports sector was deteriorated gravely due to the intervention of Rajapaksa sons. Rajapaksa sons attempted to bring rugby over other national sports. As a result sponsorships were limited to this sport.
10 other sectors
We hope to get information regarding those who have been affected due to political clout of Rajapaksas and their henchmen.
However, it would not be possible to find instant solutions for issues that have continued for 9 long years. We would mediate instantly in matters that could be solved immediately. But there are matters that need a mechanism to be created before they are given a long term solution. After collecting information the JVP would, through this committee, take legal action, question in Parliament and also refer issues to relevant ministries.
People could forward their issues to 43/20, Nugagaha Place, Piliyandala road, Maharagama. The telephone numbers 0112896349 or 0718106863 could be used or e-mails could be sent to  politicsandsrilanka@gmail.com
(Lanka Truth)
Latest Headlines in Sri Lanka