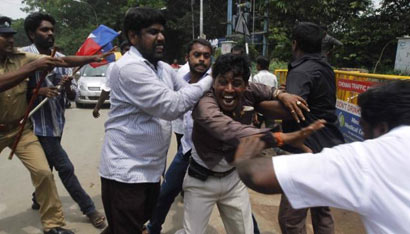 VICIOUS ASSAULT: The group attacked a motorist on Friday, who asked them why they were holding up traffic. Photo: V. Ganesan
Onlanka News – by Walter Jayawardhana
Members of Viduthalai Chiruthakal Katchi (VCK) an ally of Vaiko violently attacked  a motorist, according to photos and videos published, near the Sri Lanka Deputy High Commission in Chennai .
Media reports said the bullish thugs were outraged when a motorist asked them why their demonstration was delaying the traffic so much.
Reports said the police did not come to the aid of victims until the media intervened.
Following is the eye witness news the |Hindu published:
"Police are on the lookout for a group of men who attacked a motorist during a protest organised by the Viduthalai Chiruthaikal Katchi near the Sri Lankan Deputy High Commissioner's office on Friday.
"The motorist was beaten up in full view of media persons, when he asked the protesters why they were holding up traffic for so long, when hundreds of vehicles had been stranded in a heavy traffic jam.
"The victim, Sundar (43), a carpenter from MGR Nagar, was on his way along with a colleague, to a bank to deposit a cheque.
"VCK was protesting the visit of Sri Lankan President Mahinda Rajapaksa to the country. About 100 cadre led by general secretary Thol. Thirumavalavan gathered near Loyola College and raised slogans. Police kept the protestors 300 metres away from the Sri Lankan Deputy High Commissioner's office on Sterling Road.
"Traffic on Sterling Road and its linking roads came to a complete halt as protestors gathered on the road. Media persons present there recorded the grievances of motorists who were stuck on the road for more than an hour.
"Sundar's two-wheeler was caught in traffic close to a group of protestors. He was one of the few motorists who questioned the group and honked in request for some way for motorists to pass. Enraged, five VCK men pounced on him and assaulted him," said an investigating officer.
"As policemen watched and other motorists froze in fear, the man was thrashed by the group. He was rescued only after a while by a few policemen after the intervention of media persons.
"Investigators are examining the videos and photographs from the scene and have zeroed in on five men. However, Sundar did not lodge a police complaint until Saturday evening, as he was apprehensive, police said."