SUSPECTED SPY WITH SRILANKAN CONNECTION REMANDED IN TAMILNADU
Posted by Editor on September 23, 2012 - 6:24 pm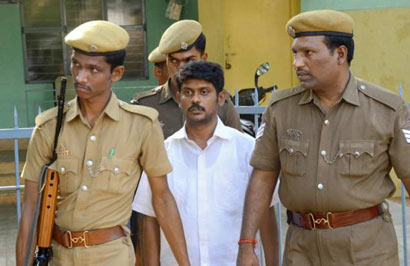 Tamim Ansari being brought to Judical Magistrate Court-III in Tiruchi on Saturday. Photo: R.M. Rajarathinam
Onlanka News – by Walter Jayawardhana
Thamim Ansari a citizen of India and a resident of Tamil Nadu who was alleged to have spied for Pakistan with the help of Colombo's Pakistani High Commission was remanded by a Tiruchi magistrate when he was produced before him by the Q Branch of the Tamil Nadu Criminal Investigation Department.
The suspected Inter-Services Intelligence operative, was produced in the court in Tiruchi on Saturday evening after the expiry of the one-day police custody and was remanded to judicial custody.
The Q Branch-CID police which interrogated him since  evening of September 21, produced him before the court of Kirubakaran Mathuram, Judicial Magistrate III (who is the Judicial Magistrate II in-charge). The court had earlier given him judicial custody till October 1 and he was later taken to the Central Prison.
J. Kennedy, counsel for Thamim Ansari, presented a petition in the court stating that the Magistrate while granting one day's police custody had directed the police that he should be allowed to speak to his lawyer. But the Q branch police did not inform him about his whereabouts throughout the police custody period, the lawyer alleged.
Speaking to mediapersons, while waiting in the police vehicle before being produced in the court, Mr. Ansari refuted all the allegations made against him.
He said he had suffered heavy loss in vegetable business. Referring to the charge of videographing of vital defence installations, he said that he used to visit various tourist spots and had videographed all these tourist centres.
He had videographed the Madras Regimental Centre at Wellington in the Nilgiris district when he visited Ooty.
Referring to his contacts with Haji, a Sri Lankan national through whom he is said to have worked for the Pakistani intelligence agency, Mr. Ansari said he had business links with Haji for the past one year and met him on various occasions, but was unaware whether he had any links with ISI.
Earlier in the day, Q branch police team took him to his residence near new bus stand in Thanjavur town and his office as part of the enquiry.
Latest Headlines in Sri Lanka