Ven Kassapa Thero (OBE) in the UK urges all Sri Lankans to vote for President Rajapaksa
Posted by Editor on January 23, 2010 - 7:02 pm

Onlanka News – By Janaka Alahapperuma
The Chief Incumbent of the Birminham Buddhist Vihara, the President of the Midlands Buddhist Association in the UK, the President of the Buddhist Relief Organisation (IBRO) attached to the United Nations (UN) and the Vice President of the Sri Lankan Sangha Sabha of the UK, Venerable Dr. Witharandeniye Kassapa Nayaka Thero urged all Sri Lankans to vote for President Mahinda Rajapaksa in the upcoming elections.
In the special statement issued by Ven Thero kindly requested all Sri Lankan voters to unite, support and cast their vote wisely for President Rajapaksa who, with brave leadership defeated thirty years of brutal terrorism in Sri Lanka. Ven Kassapa Thero further requested patriotic Sri Lankans that they should vote to secure another term for President Rajapaksa in the office which would be the only way to consolidate the hard won peace achieved by him.
Venerable Dr. Kassapa Thero was appointed with the OBE (Order of British Empire) by Her Majesty the Queen Elizabeth-II in her New Year's list in 2008 for his untiring relief work for the world community during last two and half decades. Sri Lankan President Mahinda Rajapaksa also honourably felicitated Ven Kassapa Thero on 6th June 2008 at the Temple Trees.
Ven Thero is very popular Buddhist priest not only among Asian Buddhists in the UK but also the other communities in the Midlands.
The full text of the statement in Sinhala as follows.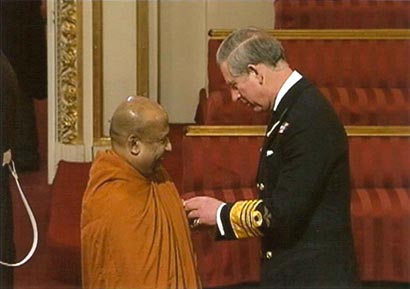 Latest Headlines in Sri Lanka