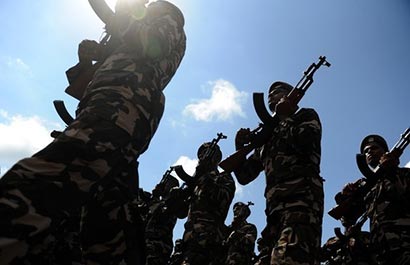 The fifth Victory Day celebrations will be held today on a grand scale in Samudra Mawatha, Matara. Troops of the Tri Services, police and Civil Defence Service personnel, Mechanised Columns and differently-abled soldiers in wheelchairs will take part in the parade.
There will be 587 officers representing the Army, Navy, Air Force Police and the Civil Defence Force. Moreover, 3,735 Army, 1,189 Navy, 1,100 Air Force, 643 police and 578 civil defence and other rankers will also take part.
The parade will be commanded by Maj. Gen. Sudantha Ranasinghe and the second in Command would be Brigadier Nishshyanka Ranawana.
The Armed Forces will showcase its military strength in the parade by including nearly 116 armoured vehicles. The Air Force will conduct a flypast with their fighter jets and helicopter squadrons and about 35 aircraft will be used. The Navy will parade along the sea in 40 ships and vessels including Dvoras, IECs, attack craft and ships.
There will be a colourful display from parachute jumpers from the three Forces. Nine Parajumpers will be from the Army including five officers and nine from the Air Force including three officers and two women parajumpers. Three Navy personnel will participate in parajumping. Colonel Anil Samarasiri of the Sri Lanka Army will carry the National flag for the parajumper fleet.
Many VIPs, Foreign dignitaries and the public will view the parade at the Samudra Mawatha, Matara.
(Sunday Observer)