Violent incidents mount as Sri Lanka heads to presidential poll
Posted by Editor on January 6, 2015 - 10:10 am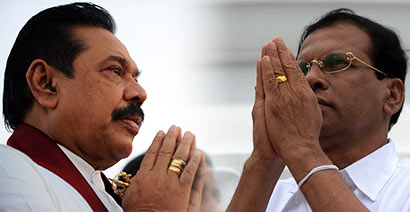 Three supporters of the challenger for Sri Lanka's presidency were injured by unidentified gunmen on Monday, the latest in a series of violent incidents ahead of the South Asian island nation's election this week.
Over the weekend a volley of shots were fired at a campaign meeting just after Maithripala Sirisena, who has emerged as a serious threat to President Mahinda Rajapaksa's bid for a third term, had left the stage in his rural heartland home district.
Two Election Commission officers were also attacked in the eastern port district of Trincomalee by backers of Rajapaksa's party, the Centre for Monitoring Election Violence said.
"Violence is on the rise and it seems to be a well calculated strategy to prevent the opposition campaign," Keerthi Tennakoon, executive director of the Campaign for Free and Fair Election (CaFFE), told Reuters.
Sirisena left the government to take on the president. Since then more than two dozen Rajapaksa loyalists in the 225-seat parliament have defected.
Many Sri Lankans still back the president but his popularity has waned amid complaints of corruption and nepotism.
CaFFE, a local poll monitor, said it has received 157 complaints of violence and 1,201 of election law violations since Rajapaksa called the poll for Jan. 8 in November.
Tennakoon said the three Sirisena supporters were shot at before dawn as they prepared a rally stage in the gem-mining district of Ratnapura. One was in a critical condition, he said.
A district court ordered the arrest of a deputy minister in Rajapaksa's administration and two local councillors over the incident, media said.
International monitors say they have received complaints of abuse of state power, violence against opposition supporters, and military intimidation in northern areas where a war with Tamil Tiger separatists raged for 26 years until 2009.
"People who we met raised concern over the military presence in the north and intimidation of voters," Bharrat Jagdeo, the head of the Commonwealth Observer Group, told reporters on Sunday.
Rajapaksa's party has rejected allegations that it is behind incidents of election-related violence and says the opposition fabricates stories to win votes.
Political analysts expect further election violence, including possible clashes between parties of the ethnic Tamil and Muslim minorities that back Sirisena and the extremist Buddhist groups behind Rajapaksa.
Election Commissioner Mahinda Deshapriya said he would order a re-poll in any area hit by election-related violence.
Separately, a court barred four media groups from broadcasting a live program with Rajapaksa later on Monday, citing possible election law violations.
(Reuters)
Latest Headlines in Sri Lanka