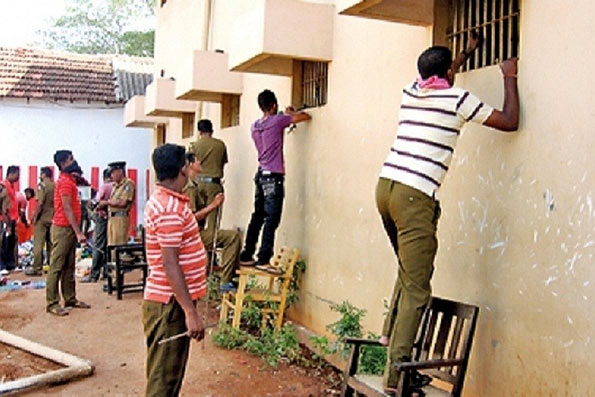 Prison authorities are getting more and more accustomed to hosting 'VIP' prisoners with the latest addition to the spate of members of the former regime to be in the lock up at the Welikada Prison being UPFA MP Namal Rajapaksa.
The former President's son who was remanded on Monday had to be provided with a mattress, a luxury not accorded to "ordinary" poisoners, following complaints that he was suffering from a back pain, Usually prisoners are provided with only a mat and a pillow, but in the case of the junior Mr. Rajapaksa, on medical advice, he was given permission to bring a mattress from outside, a prison official said.
Mr Rajapaksa listed as remand prisoner '5502' is held in a separate cell while the ward has about 30 other suspects including those held for drug offences. The same cell was where his brother Yoshitha Rajapaksa was held earlier.The remand prisoners are usually locked up in their cells at night and only can come out to the corridor at the time when they can meet the other prisoners.Some 30 prisoners in the ward share one toilet. In the adjoining cell is National Freedom Front spokesman Mohamed Muzzamil who is in remand custody over an allegation of misuse of State vehicles.
Mr. Rajapaksa has opted to obtain his meals from home as remand prisoners are allowed to get meals from outside.He has been having a stream of visitors including members of the joint opposition and UPFA members with the Government.
"I was told that Namal keeps himself occupied by doing Yoga exercises", former Minister Mahinda Yapa Abeywardena said.
(Source: The Sunday Times – By Jayantha Samarakoon)