WE ASSAULTED STUDENTS AT DEHIWALA; STRIPPED THEM NAKED IN PERADENIYA, SAYS SB
Posted by Editor on December 19, 2010 - 11:09 am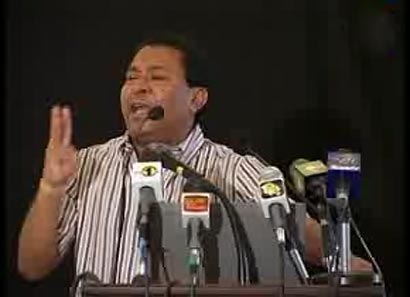 We assaulted the protesting students at the Dehiwala Higher Technical Institute and chased them away leaving them only with their underwear and in Peradeniya, we stripped the fasting students naked and chased them away, said a beaming S. B. Dissanayake, Minister of Higher Education yesterday.
The minister made this statement attending a workshop held in Colombo yesterday on the theme 'Preparing for a strategic plan to develop skills', taking place for all institutions affiliated to the Ministry of Higher Education.
He said that the violent behaviour of students at universities could not be prevented when such an environment was prevalent.
"Students turn violent because they know could afford to do it. The students of the Dehiwala Higher Technical Institute chased away its director and occupied his official quarters.
"Venerable monks, It took me only four minutes to slap two or three on their ears and chase them away. It took only four minutes. They ran along the streets in their underwear around 8pm. Now there's no hum
"In Peradeniya, they had put up a hut and was conducting a big fast. We went around 3am. We wanted to embarrass them a little. We stripped them naked and chased them away," said the Higher Education Minister S. B. Dissanayake.
Source: News First
Latest Headlines in Sri Lanka