Sri Lanka relents over UN war crimes experts
Posted by Editor on December 18, 2010 - 2:05 pm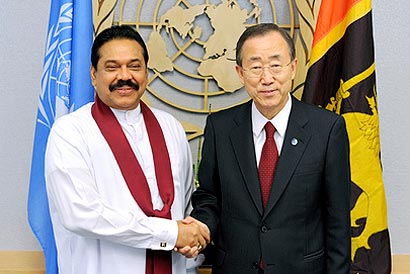 COLOMBO (AFP) – Sri Lanka has softened its stance and agreed to welcome a panel of experts appointed by UN Secretary General Ban Ki-moon to probe alleged war crimes, according to a minister.
The experts will be allowed to meet a local panel reporting on moves to ensure that the country does not slip back into ethnic war.
Sri Lanka previously rejected Ban's panel as an interference in the internal affairs of a sovereign state and instead set up its own "Lessons Learnt and Reconciliation Commission (LLRC)" to study, among other things, why a 2002 truce broke down between the government and Tamil Tiger rebels.
"We have rejected a probe by the UN Secretary-General, but the president has decided to allow his experts to visit Sri Lanka and go before the LLRC if they wished to," said Media Minister Keheliya Rambukwella.
The government had earlier said it would not grant visas to the three-member panel to conduct their investigations into allegations of war crimes in the final stages of fighting last year.
The UN has accused both troops and Tiger rebels of abuses and estimated that at least 7,000 civilians perished in the final months of fighting. However, international rights groups have said the civilian toll was over 30,000.
UN sources said no dates had yet been finalised for the UN experts to visit Sri Lanka, but noted that Ban had thanked President Mahinda Rajapakse for the "flexibility" he had demonstrated in allowing the UN officials to visit.
Latest Headlines in Sri Lanka