We had only beedi butts, a cap to bust thieves: Senior DIG Senanayake
Posted by Editor on August 23, 2012 - 7:21 am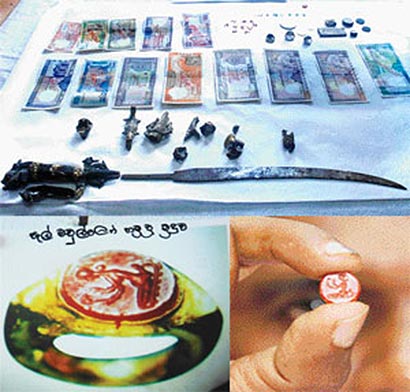 Senior Deputy Inspector General of Police Anura Senanayake yesterday said that the police were happy that a massive operation they had conducted painstakingly for months to trace invaluable artefacts stolen from the National Museum in March had yielded the desired results. He said the police were looking for the main suspect.
Senanayake said the police had been saddled with a Herculean task as they had only a few butts of beedi and a cap when they started the investigation. He said it was sad that an effort was being made in some quarters to ridicule the operation which had helped recover the priceless artefacts.
He reiterated that the man whose identity had been published in the media along with his photograph, was the main suspect.
When The Island interviewed Senior DIG Senanayake, at his office in the Police Headquarters yesterday afternoon, he said that evidence had surfaced that the man, whose picture had been published, was the mastermind of the robbery.
He said that there was no denying the fact that Lasange Priyantha Mendis was the main man behind the theft and after his arrest some more details would emerge about the theft. He said the police needed public support to arrest him and others connected to the theft.
The Senior DIG said President Mahinda Rajapaksa and Defence Secretary Gotabhaya Rajapaksa had caused him to endure many long days and sleepless nights by demanding that those responsible for the Museum theft be arrested and the stolen items recovered.
He said that the fourth suspect arrested on Wednesday had in his possession a number of artifacts such as a white stone studded ring, 13 specimen notes in different denominations, gold coins, two Portuguese coins, a big till, a small till, a silver coin, a stone carving of a woman's face, six big gems of different colours, 53 small gems of different colours and two square shaped pieces of metal.
Senior DIGSenanayake reiterated that the main suspect was a drug addict.That had come to light when the police apprehended a kidnapper and an extortionist over recent incident in Kotahena.
The items stolen from the Museum on March 16, comprised 93 gold coins, seven rings, seven swords, 9 brass coins, 50 silver coins, and 13 notes, he said.
He said that the seal, which was invaluable and most precious artifact.
Following the arrest of three suspects, the police recovered two rings and a sword when they were trying to dispose of them through a three wheeler driver who was arrested by the Piliyandala police.
Courtesy: The Island
Latest Headlines in Sri Lanka