We should face difficult tasks for the betterment of motherland – President
Posted by Editor on November 19, 2016 - 10:04 am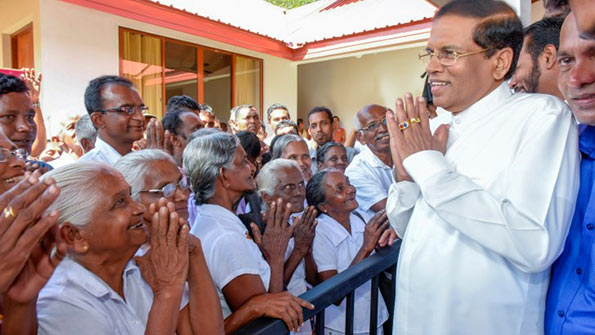 "What we have to do for the motherland is not the easy tasks but face the difficult tasks and win them", says President Maithripala Sirisena.
"The main political parties of the country have come on to a same path to go on a new journey for the motherland by correcting the faults and defects in the history. Whatever the criticisms are done that journey will be move forward for the victory of the country and the people", he added.
The President made these remarks during his visit in the Madurawala, Bulathsinhala area yesterday (Nov. 18). He also engaged in several development activities in the area.
President Sirisena said everybody should get together to build a prosperous Sri Lanka by bringing the grandeur of the ancient kingdoms by protecting the historical foundation, great culture and respectable history.
The President vested the new auditorium of Madurawala Madya Maha Vidyalaya in the Horana Educational Zone with students.
The President who arrived in the school was warmly welcomed by the students of the school. He also had cordial discussions with the children.
President Sirisena declared open the Madurawala Henry Jayawardena Memorial Library. He also planted a Sandal sapling in the library premises to mark this occasion. He issued the first membership of the library.
The President also declared open the multi-purpose center in Anguruwathota. He also registered the first patient of the ayurvedic medical clinic of the multi-purpose center.
(President's Media)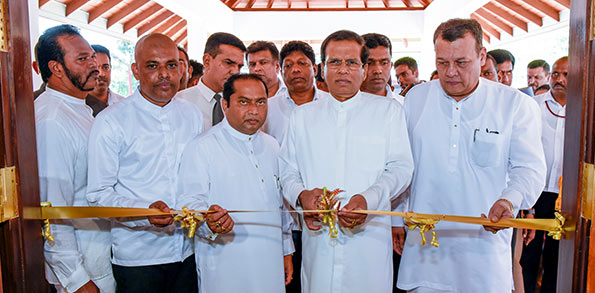 Latest Headlines in Sri Lanka