We thank India for not attending CHOGM – Lessons not learnt by Sri Lanka
Posted by Editor on November 17, 2013 - 6:45 pm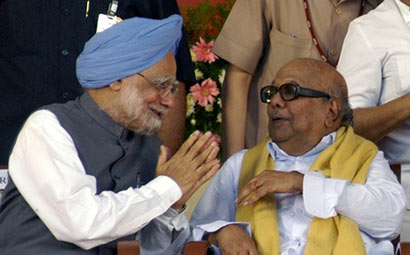 – by Shenali D Waduge –
The present Government will go down in history as giving India the biggest stakes in Sri Lanka's post-conflict despite being rewarded with consecutive humiliations by India. None of these humiliations have even remotely pushed Sri Lanka's leaders to realize that India CANNOT be TRUSTED or made Sri Lanka's leaders resolve to secure the country of Indian incursions. Its best response has been to give India backseat position at CHOGM. These childish antics will get the Government or the country nowhere. It has certainly been a testing process for Sri Lanka's policy makers. But they have put the brakes every time calls are made by patriots of the country to secure Sri Lanka without exposing it to India knowing that with or without Eelam, India wishes to turn Sri Lanka into a satellite state and the buttons pressed for this ultimate goal are many and our leaders seem to be doing exactly what India wants them to do. Keeping traitors and giving them VIP positions has not helped the country or the leaders in the least – as proof is in the CHOGM pudding. We need to bring history into the scenario for during ancient times despite sporadic invasions from India's South, Sri Lanka's Kings had made necessary allegiances with either of the Pallava, Chola or Pandya kings who helped ward off the enemy from Sri Lanka. Have we not learnt lessons from history at least? Never was Sri Lanka ever under Indian rule what a shame if our leaders are allowing such to take place now.
Sri Lanka has suffered many a humiliation by India over the years. The list should now make Sri Lankans ask what the present leaders are going to do about new humiliations.
Voting against Sri Lanka in Geneva – not once but twice
Indian Premier issuing statements of India's decision on Geneva prior to vote to influence other nations to also vote against Sri Lanka
Twice boycotting international events in Sri Lanka (SAARC Summit during President Premadasa's tenure who outsmarted India by personally calling the SAARC neighbors and getting their assurance of attendance and holding the Summit without India and the present CHOGM 2013 which guaranteed presence of India for Sri Lanka's assurance of holding elections in the North and signing the Sampur coal power plant). With both signed India went back on its promise and decided to not attend and even got puppet states to not attend CHOGM as well.
Wasting Sri Lankan taxpayers money in having to send Sri Lankan officials up and down virtually every other day to brief India of the military efforts during the final phase of the war when India did not give a single weapon to fight the war.
Forcing Sri Lanka to delay the final assault on the LTTE so that Congress could win elections thereby compromising the lives of Sri Lankan soldiers who died.
Using its global status to influence US, UK and other foreign governments against Sri Lanka so that on behalf of them India would secure all that they and India strategically desire in Sri Lanka.
Economically, post-conflict India has made inroads into virtually every sector in business. Indian companies have invested nearly USD2billion worth FDI for the next 5 years under what tax concessions and grants and at what cost has this been to Sri Lanka?
India's Central Government has simply watched Tamil Nadu abuse Buddhist monks, pelt Sri Lanka's Deputy Mission in Chennai, refuse to hold IPL matches if Sri Lankan players are involved and claim in no uncertain terms that the Sinhalese are not welcome in Tamil Nadu (no variance from what Chief Minister Wigneswaran now says in the North despite him living virtually all his life in Colombo amongst the Sinhalese, working and even schooling amongst the Sinhalese)
Tapping the Defence Secretary's phone yet our leaders continue to grace the company event that was responsible!
These recent humiliations are all connected to the initial stab in the back when India started to clandestinely train, arm and finance Sri Lankan Tamil youth turning them into armed militants to strike terror in Sri Lanka under guidance of India's intelligence agency.
India's tryst with the tiger ended up in devouring its own former Premier Rajiv Gandhi which seriously should make even David Cameron, Harper and a host of others regularly gathering at pro-LTTE events somewhat cautious because Rajiv Gandhi himself trusted LTTE leader Prabakaran to even hand over his own bullet proof vest to him! Therefore, with Channel 4 linked to LTTE in more ways than UK, Canada and US are likely to admit for their safety we would caution them to keep a distance from these figures. Rajiv Gandhi never thought he would become a target of LTTE suicide attack and there are plenty of 'White Widow's around which is why the country was aghast when the Channel 4 came so close to Sri Lanka's President! Moreover when Dr. Subramaniam Swamy says that Congress chairperson has been smuggling Indian artifacts out of India through the LTTE we have to wonder what type of influence that connection had on Indian premier not attending CHOGM.
We can continue with the list but the gist is that the humiliations have not resulted in any reaction for the country appears to lack a policy on handling India and India's immediate neighbors would all advise Sri Lanka that its better to draw up one before Sri Lanka ends up annexed to India.
If Sri Lanka is to protect itself from India yet continue its diplomatic relations which certainly can once the boundaries and no-go areas are properly drawn and conveyed clearly, Sri Lanka needs to
Abrogate the Indo-Lanka Accord – nothing India promised in the clauses have been honored by India and now 25 years on it is time to say quits to a document that is no longer functional and both signatories are dead. The Government must at lease now cease the opportunity to take a firm decision.
Repeal the 13th amendment – repeatedly said, this provision creating the provincial council system is simply eating up the wealth of the country and depositing in the personal accounts of its elected officials as well as leading the country towards balkanization given that the North Chief Minister is not only calling for the removal of the Governor, he wants no Sinhalese to enter the North and prefers to directly deal with India rather than the President of Sri Lanka. These will be used as basis for a separate state one that would suit the pan-Christian state that the West are trying to create aligned to Tamil Nadu and so long as Italian-Congress chairperson is in power India will do what the West wants India to do.
Relook at all Indian investments and see how far the connection of each equates to the subjugation of the entire country in time to come. Do the calculations and see how a flooding of Indians to Sri Lanka under whatever excuse – work, residential permits, tourists, illegals etc will ultimately lead to another illicit immigration nightmare and a demographic imbalance. Just a simple example is how Sri Lanka is planning to allow electricity to be given from India, a country that is eternally having electricity cuts, what if India decides to put Sri Lanka in darkness doing another Geneva or CHOGM on us?
IOC, Sampur, Oil are the other stakes that Sri Lanka has given undue leverage to India. We cannot be so naïve not to ignore that the Indo-Lanka Accord was signed merging North with East not for anything else but for India to secure the Trincomalee natural harbor and Sampur has been another ruse for India to get closer to the point that is the strategic desire of any country.
If India chose domestic politics, when we know how policy-less these celluloid politicians in Tamil Nadu are, it means India cares little for Sri Lanka or the Rajapakse Government. If this is the reality, why are we going behind India when it has shown that we are not even as important as the jokers in the southern state?
Sri Lanka now needs to start looking at drawing policies that serve the interests of Sri Lanka and its citizens who want to be Sri Lankan and not those with one foot here and another elsewhere. Sri Lanka must now either completely do away with the Indo-Lanka Accord or repeal the 13th amendment. It is now no time for half-hearted solutions or thinking luck will turn upon us.
Latest Headlines in Sri Lanka