Welcome to Sri Lanka via Mattala. Chairman of the Sri Lankan Airlines Mr Nishantha Wickramasinghe requests Sri Lankans around the world
Posted by Editor on March 18, 2013 - 7:50 am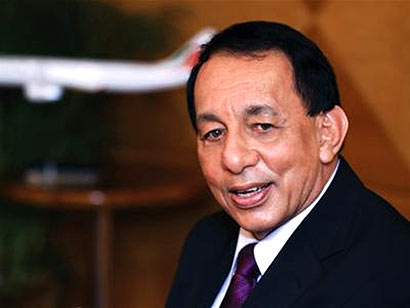 Exclusive interview by Janaka Alahapperuma from London
The Hambantota Mahinda Rajapaksa International Airport (MRIA) is Sri Lanka's second international airport, with its wondrous new sky gate which has currently finished in its 1st phase. The official opening to the nation will be on 18 March 2013. I had a very rare opportunity to talk directly to the Chairman of Sri Lankan Air Lines Mr Nishantha Wickramasinghe at a historic time of the airline industry in Sri Lanka. He is one of the instrumental figures of this mission from the initial stage. And therefore he has a thorough knowledge of getting first hand information about the MRIA.
The following is a full account of the interview I had with Mr Wickramasinghe.
Is everything in place to welcome the inaugural landing at Mattala new airport?
Yes, Mattala Mahinda Rajapaksa International Airport (MRIA) is a classic example of a vision becoming a reality; a dream that comes true in a developing nation. It is ready now and fully functional up to the international standards. An A330 Aircraft from the Sri Lankan fleet did a test landing at Mattala in the morning on 29th January 2013. The flight took off from Katunayake Airport (BIA) and arrived at Mattala Airport. The objective of this was to test the readiness of the MRIA for commercial operations and official landing in March. The total movement was smooth and all navigational systems at the MRIA were in order, as confirmed by the highly qualified staff of Sri Lankan Airlines, of our national carrier. They were highly satisfied with the flight operations and confirmed MRIA to be ready for commercial flight operations, from the Pilots' point of view. Director General of Civil Aviation Authority also confirmed that his decision to allow this wide body aircraft (A330) to land at MRIA has proven to be correct because the smooth landing and taking off of the aircraft. So, Mattala International Airport is now ready for Flight operations.
What are the facilities available on ground?
We have lined up every modern equipment, that's highly sophisticated and use up to date technology and facilities on the ground at MRIA. Our new international airport is in the same league as the most developed airports around the world. One of the most attractive features is the 3500 meter long run way which has been designated a Code: F by the International Civil Aviation Organisation. Mattala is attracting interest from airbus A330 and possibly 380 operators and the airport agencies
Sri Lanka's second international airport was built in southern part of the country. What do you think about the location? Is it a wise move to go deep south?
Yes, it is. In the past we didn't have two things. First, we didn't have an alternative international airport to Katunayake. So there was a demand for it.  If there is bad weather or if it is not possible to land air planes we have to divert them to the nearest place in India. So there is an immediate need for a 2nd airport in our country.
Secondly the location of the airport is also widely important because Mattala is located in the catchment area of many tourist attractions, for example Wildlife, sandy beaches and the sea. Wild life reserves such as Yala National Park can be reached within an hour by car. By road, in one and half hours or two you can reach most of the major areas of the country. You can enjoy one of the best wild life reserves, and some other sanctuaries, which have hundreds of hundreds of elephants to see, if you go beyond that you get to the sea with its beautiful beaches that stretch for miles and miles along the coast, within half an hour you can reach one of the world famous whale watching regions and further east tourists can enjoy international surfing resorts at Arugam Bay.
And also another positive point of this airport is as you know Sri Lanka has an east and west coasts. Naturally Mattala is based in the very centre of the two. Due to the strategic location especially during the two monsoon seasons you can choose where to go either the west coast or east coast to escape rainy weather.
You will have everything on your door step. No reason to go a long way for whale and dolphin watching and to other wildlife reserves when it is not the right season. Therefore tourists coming via Mattala can enjoy the country throughout the year without facing any seasonal variations. Tourists, who want to go for pilgrimages at Kataragama and other temples, are now able to reach them much easier as these places are closer to Mattala.
Tourists who are looking for precious gems could go to Ratnapura as it has a lot to offer them as it is not far from Mattala. In Nuwara Eliya, you have sea plains, beautiful sceneries, tea estates and so on. So you have a lot to choose from even for shorter holidays. Everything is in close proximity other than the Cultural Triangle in the Anuradhapura area in the North Central Province and the North.
That is fantastic. But do you have the right infrastructure facilities to accommodate all these tourists in that region?
Yes, at the moment I have the list of hotels. But it should grow further. By today or tomorrow there won't be thousands of tourists flocking to Mattala and the surrounding area. There are a lot of new development plans for local hotels and many other projects are on the horizon.
Take my word for it. Within the next two to three years time there will be a lot changes. This is something similar to supply and demand. If there is a demand, infrastructure will grow. I am sure, hotel owners have few rooms, if they want to grow bigger, and they will develop their hotels and facilities, which some have already done, and some are upgrading their rooms, toilets and other facilities and so on. We will definitely see new hotels being built. New investors will come. It is just a matter of time, in another couple of years' time, you will find this area will be a developed area and be a major attraction for thousands and thousands of tourists to come.
Hambantota seaport is in function now. At the same time the Hambantota district development initiative has already started the International Convention Centre, Administration Complex, an oil refinery and other commercial initiatives. The MRIA and the seaport will also form an Air-Sea transportation hub. This initiative will transform the southern region of Sri Lanka into new heights.
What are the responsibilities Sri Lankan Airlines have in Mattala?
All the ground handling will be done by the Sri Lankan Airlines. That is not only for the National carrier. For all the airlines that fly there, we will be doing the ground handling. We do the catering too. Those are the two main areas we are responsible for at Mattala at the moment. And also as an airline we are flying to Mattala.
We have a huge Sri Lankan working force in the Middle East . Majority of that are from Southern, Sabaragamuwa, Uwa and Eastern Provinces of Sri Lanka . Therefore they will too enjoy many benefits of having an air port closer to their door-step when going in and out of the country.
Apart from our national carrier, what are the other airlines planning to land at Mattala?
Sri Lankan Airlines will operate four flights to Maldives (Male), two to Riyadh , two to Beijing , one to Shanghai . Beijing and Shanghai flights will fly via Bangkok . In total there will be a minimum of 10 departures and 10 arrivals per week only from the National Carrier. Mihin Air will also operate a weekly flight to Buddha Gaya from Mattala starting this week. Emirates based Fly Dubai and Air Arabia will also operate flights to and from Katunayake through Mattala. Airlines like Emirates and Qatar are also interested because of A330 and A380 compatible runway.  However Sri Lankan Airlines provides the ground support, catering and other services.
British Airways has decided to fly to Colombo . Have you talk to them about Mattala?
BA from Gatwick, London flies to Male via Colombo and vice-versa. We do all the ground handling and catering. It's revenue to us. It lets them take the first step back into Colombo after a long time. I will definitely talk to them about the advantages they have when coming to Mattala.
How long do you think it will take to be a fully functional airport up to its full capacity?
From day one it will be in full function to accommodate any air craft and thousands of passengers. Let's face the reality. I know what you meant by fully functional. To be fully functioning means to reach our set targets. The target is at least one landing every hour and one taking off. Thirty to forty planes per day. We are very committed, but to be honest with you if we reach that target within a year it will be a miracle for a small developing country like Sri Lanka. Competition is very high. We have to convince the other airlines. Tourism in the region is very competitive. Everybody counts up to the last Dollar.
We have to convince them that there is a market to be in Sri Lanka. Any airport especially a second one wouldn't pick up over night. They closely monitor our performances. All the airlines do their research before entering into a new market. So we all have a team effort to deliver for the sake of our nation. We have huge potential to grow in this sector. Opportunity is there. we just need to grab it. We all have to work hard, not only Sri Lankan Airlines. Every force must be in place for smooth running. As you are aware Sri Lanka is one of the safest places for travelers.
Recently I was in Berlin. The response we received from the foreign travelers surprisingly unbelievable. They all wanted to visit Sri Lanka in the near future. Our demand has increased nearly 20% and that's only in Germany. I suggest according to the responses and the potential we have I would say not I can achieved; but all together we would achieve up to the top level within year or two.  One million passengers would be fantastic, but at least 500,000-600,000 would be great. Then we can say that we have achieved what we wanted to achieve.
I have really been driven mainly by tourism because of this strategically important location. I was in Hong Kong attending a seminar last week. We were talking about 1.5 to 2 million tourists per year in Sri Lanka.  Hong Kong is one fifth of the size of Sri Lanka. They are talking about 35 million tourists per year. That's kind of a figure they are going to target. Take the nearest holiday destination. Male, Maldives Islands. They talk about millions and millions. Therefore my target is new segment of tourists in this area. It means new target group and new customer base.
Do you have plans to reduce the operations at BIA-Katunayake?
That is a very good question. I must thank you for asking that. There are some false media reports accusing that we have plans to reduce the number of planes in and out at BIA. Few opportunist politicians have charged the government that a sinister plan was under way to paralyse the BIA by shifting the high-tech machinery and skilled staff to the MRIA. Please remember this. We don't want to dilute our operations at the Katunayake main airport. It is not like cutting a cake into two and one half to Mattala and other half to Katunayake. We have no plans to reduce the businesses we have in Katunayake. As a country if we try to do such foolish moves we won't be successful. We are looking at completely new businesses in Mattala.
Do you have any plans to upgrade our National Carrier?
Yes, when we took over from Emirates there were no single Business Class flat beds. Flat beds are not luxury. All the airlines from Far East and Middle East have flat beds and their Business Class is very large. With the revenue we earn I have set targets of upgrading our flights including the entertainment systems, loungers and ticketing offices. We have started that but still have some short comings too.  We have to compete with the Middle East and Far East . Otherwise we can't grow in this industry. Passengers expect luxury facilities that other airlines are providing. So we can't run like a budget airline.
The government has helped us by providing capital inclusion. My vision is to maintain a young fleet. We have two brand new 320. Within the next two years my plan is to replace all the Colombo- London planes with a brand new fleet. All the international airlines have a young fleet including BA. So we must compete with them. With the help of capital inclusion we will be able to achieve our goals with a brand new fleet. Every passenger would like to get on board into new flights.  They don't like old ones. We don't need 50 aircrafts. My target is 30 brand new aircrafts in our fleet by 2016.
By doing so we have to increase the frequency to other popular destinations. Middle East is a fantastic destination to get in. Those passengers always request Business Class, nowhere else. If there is no Business Class, they use different airlines.
China is another growing market. If we can increase 1% in China, we wouldn't have enough hotels to accommodate them. It is a massive market. We have to think of India as well. If we can achieve those targets Sri Lanka will be on top of the tourism industry. By tomorrow we have no facilities to have million customers. We need to increase the infrastructure facilities. However I am proud to say that 60% of the tourists coming to Sri Lanka were brought in by Sri Lankan Airlines.
Is that true, CPC has decided not to supply fuel to Sri Lankan Airlines?
They are having the monopoly in Colombo, Katunayake airport. Not only our airline gets fuel from them and also the others buy from them. There was a special rate and suddenly they have increased it by 30%. This happened due to the price increased by a Singapore company who controls the airline fuel prices. But we decided not to go for the increased rate for many reasons.  In Maldives, not very far from here, fuel rate is considerably cheap. Other airlines will definitely go there. That's why the government has intervened. The President and few ministers discussed this matter and carried out negotiations and came to a settlement. That problem is over now. We only have few bills to settle and have been given two months credit facilities. So from now on we settle every bill as it comes.
Sri Lankan Airline is over staffed. To be a cost effective and profitable airline how will you solve that problem?
My answer is 'Yes and No'. SLA is overstaffed as at today at a certain percentage only in some sections. It is not the technical, not the engineering. It is only in supporting staff. But I use them very productively. Don't forget we need more experienced people in the near future when we increase our fleet. So we have to develop and handle our airline in a productive manner. Then we need every one of them. I am not a person giving them a golden hand shake and say sorry, we don't need them.
I have to send some staff from here to Mattala and had to employ some from the local crowd because I cannot send everyone from here. Some staff volunteered to go there. We had to provide housing. I have recruited ground handling, ticketing and other staff from the area and given them three months training. I have send the managing and supervisor staff with the experience, who are driving the business from Katunayake. So I cannot say we are over staffed now.
What is your opinion about Mihin Lanka?
Mihin Lanka also comes under my authority. It was a failure earlier as a separate unit. The government wants to enjoy certain synergies to bring about. It is and should be a separate profit making wing for Sri Lankan airlines. So working together sharing synergies like ground handling, catering, ticketing and administration the unit cost automatically goes down.
Finally do you have any message for the Sri Lankans living abroad?
Yes, I have a message to all Sri Lankans living abroad. Our country is very safe now. Many people visit Sri Lanka frequently. So I request everyone to visit Sri Lanka via Mattala airport if possible. Ten years ago we never even dreamt of an airport in this part of the country. I want to promote Mattala. That cannot be done within days. I am planning to bring all my country managers, senior officials to Mattala to use their expertise to upgrade the quality and standard of the airport while smoothly running the BIA. I wanted to have a few flights flying to Mattala from London, Frankfort and other major European cities and popular destinations around the globe. The plan is to increase the frequency not to bring the present passengers, mostly the new passengers. Please promote Sri Lanka, promote Mattala. Educate your friends, colleagues at work and neighbours in Europe about the facilities and entertainment we have. 60% of tourists are coming from EU countries. During winter season they look for good holiday resorts. Sri Lankan holidays are much cheaper than most of the other places. The environment is eco-friendly. The area is not polluted.
Hambantota Mattala Mahinda Rajapaksa International Airport
Latest Headlines in Sri Lanka