West beckons skilled Lankans
Posted by Editor on January 10, 2012 - 7:19 am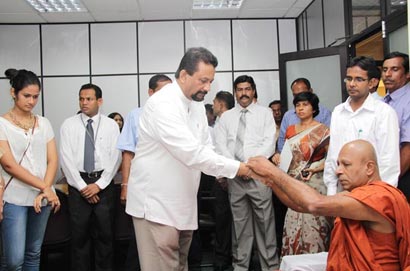 Skilled Sri Lankan foreign employment aspirants can expect a large number of lucrative job offers in the UK, USA, Canada, Italy, New Zealand and Australia this year. Sri Lanka Bureau of Foreign Employment (SLBFE) new chairman Amal Senadhilankara told the media yesterday that authorities had secured a number of such job opportunities and many more were in the pipeline.
The former parliamentarian who assumed duties at the SLBFE yesterday, predicted further growth in the sector this year, following an impressive 2011, where worker remittances crossed an unprecedented US $ 5 billion to be the country's highest foreign revenue earner.
According to Foreign Employment Minister Dilan Perera, Sri Lanka's newest destination Italy, is slated to offer over 3,600 jobs for Lankans on a government to government basis. Over 10,000 Lankans who qualified as the recent Korean language proficiency test are also expected to secure employment this year with the minimum basic wage exceeding US $ 1,000.
Another initiative is to negotiate a tripartite collaboration between the University of Hertfordshire of UK, Open University of Sri Lanka and SLBFE on nursing education with special emphasis on foreign employment.
Qualified Lankan nurses are expected to secure employment in the UK, USA, Canada and EU countries. Senadhilankara said successful negotiations have been held with Australia, New Zealand, Canada and a number of EU countries. Opportunities are expected to be available mainly in the hospitality, nursing, fisheries, agriculture, IT, technical and construction sectors.
Sri Lanka is also expected to strengthen agreements with existing markets such as Jordan, UAE, Bahrain, Libya, South Korea, Qatar, Kuwait, Oman and Lebanon.
An MoU with Israel is under negotiation to recruit of 2,500 construction workers and 500 care givers and a number of other opportunities in the field of agriculture.
Foreign employment authorities are focusing on skilled and professional categories which will have a higher earning capacity and less employment related problems.
Negotiations are also on to establish a job-ensured export-oriented worker training institute as a joint collaboration with the SLBFE and two Malaysian organizations. This will meet the growing demand for especially skilled workers in Malaysia.
Authorities are also negotiating with Japan on the possibility of training Sri Lankan-workers.
Courtesy: Daily News
Latest Headlines in Sri Lanka