WHERE DID THE RS. 31 BILLION FLOOD RELIEF MONEY GO, ASKS RAVI KARUNANAYAKE
Posted by Editor on February 6, 2011 - 8:02 am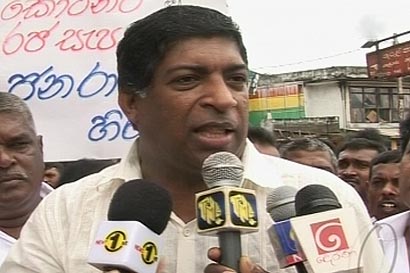 February 05, 2011: The government is saying that they have spent Rs. 31 billion for the flood affected people while the people are claiming that they haven't received even 5 cents or food, says the United National Party (UNP) parliamentarian Ravi Karunanayake.
ravi1Ravi K. expressed this view while addressing a public rally in the Mattakkuliya area yesterday (4) afternoon.
The monthly Bala-Mandala meeting of the Colombo North area and a meeting with the youth in the areas was held under the patronage of MP Karunanayake.
"Two weeks ago it rained so much the country was like a river. Then it stopped for one week. Once again a similar situation has arisen in the Anuradhapura, Polonnaruwa, Ampara and Trincomalee areas. The government is saying it has spent 31 billion rupees on these people. We want to know where these funds are being kept. They are saying its coming from abroad. They are saying that 31 billion rupees have been spent?
"The innocent people affected by the floods are saying they haven't received even five cents. They are saying they don't get food. We would like to ask the government where they spent that 31 billion rupees," said the UNP MP claiming that expenditure incurred by the Government in providing relief to the flood affected people, must be done in a transparent manner.
Subsequently the MP Karunanayake presented awards to the winners of the six-a-side cricket tournament organized in the Dockland area in Mattakkuliya.
Source: News First
Latest Headlines in Sri Lanka