Sri Lanka parties clash over jailed army general
Posted by Editor on February 5, 2011 - 5:14 am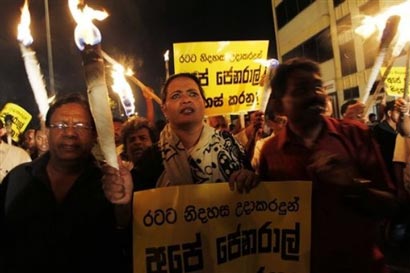 COLOMBO (AFP) – Government and opposition activists clashed in Sri Lanka's capital Friday as the country marked its national day amid calls to free jailed opposition leader and former army chief Sarath Fonseka.
Police said violence erupted near the country's main prison in Colombo as the opposition marched to press for the release of Fonseka, who is serving a 30-month jail term.
Several opposition activists, including an opposition MP, were wounded while a large number of vehicles had their windows smashed.
"The two groups fought as the protest march went past a religious ceremony organised by some government lawmakers," police deputy inspector general Anura Senanayake said.
The main opposition United National Party said the violence against its supporters was an attack on freedom of expression and a "black mark" on the country's independence day.
"Is this democracy?" opposition MP Ravi Karunanayake asked reporters. "The government is responsible." He said several supporters were beaten up with sticks and sharp metal objects.
There was no immediate comment from the government.
Earlier in the day, President Mahinda Rajapakse marked national day by freeing 1,669 convicts, but his main foe, former general Fonseka, did not receive a reprieve.
In an address to the nation from the southern pilgrim town of Kataragama, the president promised to promote economic development at all costs to make up for opportunities lost during the country's separatist war.
He said he would press ahead with infrastructure projects and double per capita income to more than $4,000 in the next few years, but made no reference to the opposition campaign demanding Fonseka's release.
Fonseka is widely credited with leading troops to crush Tamil Tiger rebels and end the island's 37-year separatist war in May 2009. However, he fell out with Rajapakse on who should take credit for the military victory.
Fonseka was arrested two weeks after failing to unseat Rajapakse in the January 2010 presidential ballot. A military court martial later found him guilty of irregularities when he was army chief.
His jailing means Fonseka loses the seat he won in parliament in April last year, together with the right to stand for public office until 2017.
Rajapakse said he was prepared to take unpopular decisions in the interests of the country.
"It is the nation's responsibility to take hard and difficult decisions to bring light to the future of our children, rather than take popular decisions that will lead them to darkness ahead," the president said in Kataragama, 280 kilometres (175 miles) south of Colombo.
"Whatever the obstacles, we shall not delay to regain the lost opportunities for economic development," he added.
Rajapakse, who is also commander-in-chief of the armed forces, said the nation should also work towards uniting the minority Tamils and the Sinhalese majority after the end of the island's ethnic conflict.
Source: AFP – Pix by AP
Latest Headlines in Sri Lanka