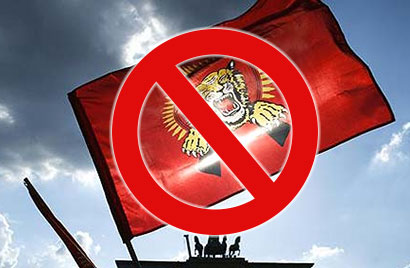 It is a natural feeling for those that lived off the LTTE and those that lived because of the LTTE to mourn the death of Prabakaran and celebrate his birthday which falls on 27 November. But, what about those that died because of Prabakaran and his killer machine? While the UNHRC is carrying out a very selective period covering just 1/3 of LTTE's criminal past, it is good to look back and mourn with the many Sinhalese, Muslims and even Tamils who must be still mourning the deaths of their loved one's while some remnants of the LTTE attempt to celebrate Prabakaran's birthday!
The Sinhalese bore the brunt of the LTTE attacks throughout the 3 decade of terror. The world makes it out to be that only Tamils suffered. This is far from the truth. There is not enough pages to fill every attack committed by the LTTE. The handful of examples shown below depicts that LTTE made no distinction in who they killed. They did not care that their targets were pregnant mothers, babies, infants, youth, the aged, men, women, clergy, public sector employees… they even killed their own cadres even the injured when they became a headache to look after.
The scale of crimes committed by the LTTE is such that it should surprise anyone why the UN its agencies did not show the same passion for 'accountability' while LTTE was carrying out their crimes throughout the 1980s, the 1990s, 2000 and beyond until the decision was taken to militarily defeat the LTTE when none of the ceasefires, peace talks, negotiations ended up anywhere.
http://www.defence.lk/LTTE%20Attrocities/Atro2.xml
11/29/1984 – Dollar farm, Mullaitivu, 33 villagers butchered to death
11/30/1984 – Kent Farm, Mulliativu, 29 villagers killed inhumanely
12/1/1984 – Kokila and Nayaru, Mullaitivu 17 villagers
1/19/1985 – Murugandi, Yarl Devi train landmine explosion kills 11 and injures 5
5/14/1985 – Sacred Sri Maha Bodhi attack – 120 Sinhala Buddhist pilgrims gunned down while at prayer
5/14/1985, Wilpattu, 18 Sinhalese shot dead
5/14/1985 – Dehiwatta, Trincomalee – LTTE kill 18 Sinhalese
8/2/1985 – Thirukonamadu, Polonnaruwa – LTTE attack Ruhunu Somawathiya Buddhist shrine killing 6
8/14/1985 – Aranthalawa, Ampara 7 villagers killed by LTTE
8/18/1985 / 11/7/1985 Namalwatte – Trincomalee, 7 Sinhalese villagers massacred / 10 sinhalese villagers killed
2/19/1986 – Kantale, Trincomalee, 19 villagers killed
5/3/1986, Katunayake, Gampaha – 19 civilians killed when LTTE explode time bombs at airport killing even foreigners
5/7/1986 – Colombo Telecom bomb explosion kills 19 civilians
5/25/1986 – Mahadivulwewa, Trincomalee 20 civilians killed by LTTE
5/30/1986 – Colombo, bomb outside Elephant House supermarket kills 11
5/30/1986 – Pahalathopur, Trincomalee – LTTE explodes landmine targeting bus and kills 5
5/31/1986 – Veyangoda, Gampaha, explosion on Yarldevi train kills 10
6/4/1986 – Andankulam, Trincomalee, 17 Sinhalese killed in village
6/4/1986 – bus bomb in Trincomalee kills 22 passengers
6/25/1986 – Sitharu, Kantale – bus explosion at public fair kills 16 civilians
7/8/1986 – Monkeybridge, Trincomalee – LTTE attack Sinhala village killing 15
4/17/1987 – Habarana, 96 civilians and 31 unarmed security forces personnel proceeding on leave personnel killed when LTTE target passenger bus
25 July 1990 – Meeyakulama ancient Sinhala village Polonnaruwa chopping 8 civilians to death including children.
25 July 1990 – Wannela ancient Sinhala village, Trincomalee – LTTE kill 9 villagers including children
26 July 1990 – Thammannawa village, Anuradhapura – Over 50 LTTE cadres storm an ancient Sinhala village ripping off wombs of pregnant mothers, smashing heads of children with clubs, torturing men, cutting their body parts – 19 such mutilated bodies found.
31 July 1990 – Podankady Sinhalese village, Trincomalee. LTTE guns down 11 civilians including women and children
7 August 1990 – Bandaraduwa village, over 100 LTTE cadres stormed village and butchered 32 civilians going from house to house to attack them using machetes and swords
8 August 1990 – Navagamuwa village, Vavuniya, armed LTTE attack ancient Sinhalese village torturing 7 civilians to death while scores other suffer severe injuries.
19 September 1990 – over 100 LTTE cadres storm ancient fishing village of Vallamunai, Puttalam where fisherfolk from all communities lived and butchered 23 villagers.
21 September 1990 – LTTE cadres storm Puddukudurippu village in which Muslims and Tamils lived and butchered 15 Muslims
24 September 1990 – armed LTTE cadres attack last remaining Sinhalese farmers in Gajabapura, Mullaitivu district killing 4 and setting fire to their houses.
30 September 1990 – LTTE storm Mahaoya village in Ampara and hack villagers who were Sinhalese, Muslims and even Tamils
1 October 1990 – LTTE attack Peruwalthalawa Sinhala village in Ampara butchering 9 including women and children.
2 October 1990 – LTTE storm Wahalkada ancient Sinhalese village in Anuradhapura and hack 4 civilians
23 October 1990 – Thanthirimalai, Anuradhapura, 30 armed LTTE surround a chena cultivation and torture 10 civilians to death.
25 October 1990 – 40 armed LTTE attack residents of Paranamadawacchchiya ancient Sinhala village, bordering Mullaitivu killing civilians
27 October 1990 – Thanthirimalai ancient Sinhalese village attacked by LTTE shooting 5 civilians.
1 November 1990 – LTTE storm Helambawewa ancient Sinhalese village, bordering Mullaitivu and kill 10 civilians including women and children.
3 November 1990 – LTTE attack Bandarakumbukkwea brutally murdering 4 and injuring scores others.List of Tamils killed by the LTTE – http://www.defence.lk
/new.asp?fname=Tamil_Politicians
Priests_Public_Officials_and_Academics
killed_by_the_LTTE_20131103_01
Assassination of Tamil Politicians by LTTE since 1975
All Ceylon Tamil Congress – 2
Communist Party – 1
EPDP members – 16
EPRLF – 7 including its leader
PLOTE – 8
TELO – 7 including its leader
TNA – 5
TULF – 16 including General Secretary Amirthalingam
UNP – 13
TMVP – 1
Foreign Minister – Lakshman Kadiragamar
Jeyraj Fernandopulle
Muslims killed by Prabakaran & LTTE
3 August 1990 – more than 200 Muslims at worship in three Mosques at Kaththankudy and Eravur in the East butuchered. LTTE disguised as Muslim enter the Meera Jumma and Husseinia mosques where hundreds of devotees were attending

Friday

Isha prayers and killed them. Over 25 were small children at prayer.
30 May 1990 – Mahindapura/Dehiwatte village, Trincomalee – LTTE slaughter 5 civilians
24 July 1990 – Aralaganvila village, Ampara – 50 LTTE cadres massacre 8 civilians including women and children chopping them to pieces. 7 such villages were attacked within a week
30 July 1990 – 14 Muslim farmers returning home from their paddy fields killed in Akkaraipattu, Ampara. LTTE distributed quit notes to Muslims living in Ampara and Batticoloa to leave their villages before 10th August 1990 or face death.
30 July 1990 – Kovilladi village, Trincomalee killing 9 Tamils and 1 Muslim subjecting them to inhuman torture
5 August 1990 – LTTE attack Muslim villagers working in paddy fields in Mulliyankadu village, Ampara killing 17 including young children. LTTE made sure their livelihoods were destroyed.
6 August 1990 – Ampara, LTTE attack villagers working on paddy field and mutilated 34 Muslims
11 August 1990 – Eravur, over 200 LTTE cadres with clubs, machetes, swords and firearms enter Saddam Hussein village, Ponnaikadu, and Klawaichchannai villages in Eravur and butcher 173 Muslims most of whom were women and children. In some cases entire family were wiped out leaving none to even carry out funeral rites. Eviction orders by LTTE was extended to 20th August or face death.
12 August 1990 – Weeracholai village, Ampara, LTTE torture to death 4 Muslims working in their paddy fields
13 August 1990 – Muttur fishing village, LTTE abduct 6 Muslim fishermen and hack them to death
From July to August 1990 – LTTE slaughtered over 650 Muslims in an ethnic cleansing campaign triggering a mass exodus of Muslims.
13 August 1990 – Avaranthalawa village, Vavuniya – LTTE storm village killing 10 civilians including women and children.
9 September 1990 – Uhana, Ampara- LTTE attack a tractor carrying Muslim farmers killing 7
13 September 1990 – LTTE abduct 7 Muslim farmers in Ponnai South, Anuradhapura and torture them to death.
11 October 1990 – Arugambay Muslim village attacked by LTTE killing 9 Muslims mostly women who were collecting firewood
29 October 1990 – LTTE torture 3 Muslims in Olukulam village, Batticoloa.
19 September 1990 – LTTE attack Muslim village in Palligodella, killing 13 Muslims.
22 October 1990 – LTTE go from house to house to loot from homes before evicting Muslims from the North.
24 March 1991 – LTTE bomb Akkaraipattu fish market killing 9 Muslims and injuring over 20
6 July 1991 – Muslim villagers attacked with knives and swords in Puther, Polonnaruwa killing 18.
29 April 1992 – 56 Muslims killed by LTTE in Muslim village of Alinchipotana, Polonnaruwa
15 July 1992 – Kiranlulama, Batticoloa, a bus load of Muslims travelling fom Kattankudy attacked by LTTE killing 19 Muslims. Muslim train passengers ordered to get off Batticoloa bound train at Parangiyamadu
1 September 1992 – Saindamadu market, Kalmunai, 22 Muslims killed by LTTE bomg
15 Oct 1992 – Muslim train passengers were ordered by the terrorist to get off the Batticaloa bound train at Parangiyamadu and the 11 Muslims who got down were gunned and killed
15 October 1992 – 5 Muslim villages in – Palligodella, Ahamadpura, Agbopura, Pamnurana, Polonnaruwa attacked killing 171 Muslims
Nearly 100,000 Muslims were evicted forcibly by the LTTE from the 5 Northern districts in October 1990 – Muslims of the Jaffna town were given only two hours to quit.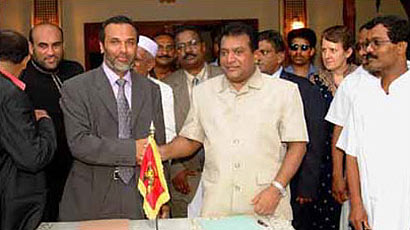 Thank you Hakeem for shaking hands with the man who killed so many Muslims!
Can Sri Lanka be faulted for not joining in the birthday celebrations? How many homes were left mourning their dead? How many homes did not even have bodies of their loved one's to mourn? One single man turned the nation upside down and the nation relieved a sigh of relief when in May 2009 with rare leadership and teamwork and the sacrifices of our valiant soldiers the nation was free of the scrooge of terrorism and the murderer Prabakaran. There is nothing to celebrate a man who murdered and ended the lives of so many and those that wish to are people who aided and abetted that terror directly or indirectly.
All those who wish to celebrate Prabakaran and the LTTE have blood of innocent people on their hands and should feel ashamed.
Had the Government denazified the LTTE immediately after victory like the Allies did to the Nazi's, all those who aided and abetted terrorism would have all been named and shamed and held accountable under the national laws of the country.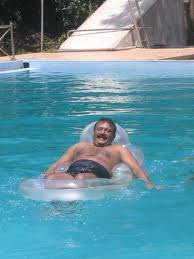 If there is any celebration to take place it should be to celebrate the demise of this murderer.
– by Shenali D Waduge