'Wigneswaran attempting to create disunity among Sri Lankans'
Posted by Editor on September 30, 2016 - 9:02 am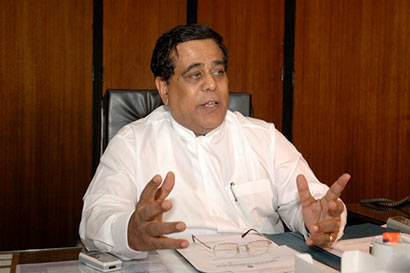 Transport and Civil Aviation Minister Nimal Siripala de Silva yesterday condemned the conduct of Northern Province Chief Minister C.V. Wigneswaran.
The Sri Lanka Freedom Party minister said: "We totally condemn the political theatrics performed by Wigneswaran under the theme of "Dhamilayani Negitivu-(Lets Rise Tamils)  aiming to gain cheap political publicity."
Addressing the media at the SLFP Headquarters yesterday, Minister Nimal Siripala said "Wigneswaran is attempting to create disunity among Sri Lankans by trying to spread communalism and racism, while the government of consensus is making great efforts to reconcile the country."
"His conduct doesn't reflect the voice or the opinions of the country's Tamils, as extremism is not a common thing among the Sinhalese, Tamil, Muslim and other communities," he said.
He further said that the conduct of the Chief Minister incites extremist political movements of the South.
Commenting on an article recently published in the Tamil Net website under the headline 'Maithiripala Sirisena acts like D.S.Senanayake in colonising Tamil lands in the East', Minister Siripala said that they have even criticised the President of the country to fulfill the purposes of the pro LTTE Tamil diaspora.
"The Tamil diaspora has now been divided into two and the majority of the diaspora has accepted the government's reconciliation process and the other group is still fulfilling the wishes of the LTTE," the minister said.
Refuting allegations made by some politicians claiming that the drafting of a new constitution has been finalised, the minister said that a new constitution cannot be drafted in secret since it cannot be passed without the approval of the public.
"As SLFPers, we will never support a federal constitution," he added.
(Daily News)
Latest Headlines in Sri Lanka