Wikileaks confirms that US led the international op. against Lanka – Wimal
Posted by Editor on November 30, 2010 - 9:04 am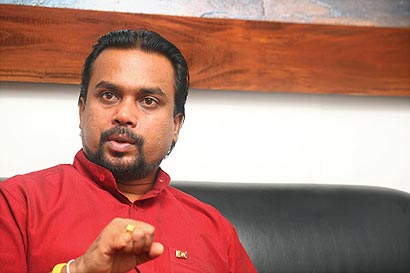 This is what we said from the start, Construction and Housing Ministers Wimal Weerawansa told Ada Derana regarding the Wikileaks documents on Sri Lanka. He added that this substantiates the fact that it was the US that led the International operation against Sri Lanka. They wanted to isolate us internationally, Wimal claimed.
Weerawansa went on to state that because Sri Lanka did not follow US orders, they wanted to defeat the government and appoint those in favour with them. This confirms what we've been trying to say from the beginning, he reiterated.
When contacted the Spokesman for the Sri Lankan External Affairs Ministry Bandula Jayasekara said that he 'cannot comment' on the matter.
Courtesy: Ada Derana
Latest Headlines in Sri Lanka