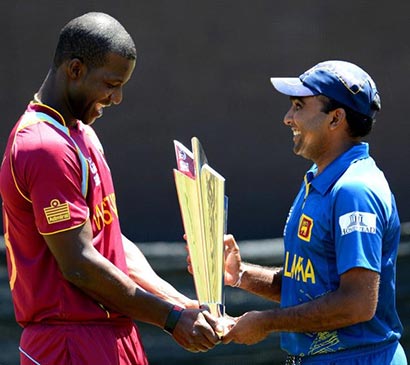 Sri Lankan captain Mahela Jayawardene and his West Indies counterpart Darren Sammy pose with the ICC Twenty20 Cricket World Cup trophy in Colombo on Saturday. Photo: K.R. Deepak
The sea within touching distance, plantations in the hinterland, tropical weather and people with a sunny disposition are features common to both Sri Lanka and the West Indies. Amidst all these picture postcard traits whipped up by geography and demography, the two island entities have a bigger bridge that binds them together — cricket.
Right from the time the colonial forces used a coconut frond to swat a ball in the Caribbean while teams from England and Australia did their stop-overs at the Colombo port during Ashes sojourns, the gentleman's game has built a strong sporting culture be it in Antigua or Kandy.
That distant resonance from history and the current urge to prove that their collective hearts are bigger than the universe though their nations may seem miniscule, will surely add an interesting sub-text as Sri Lanka takes on the West Indies in the ICC World Twenty20 final at the R. Premadasa Stadium here on Sunday night.
Since losing the World Cup final to 'Kapil's Devils' at Lord's in 1983, the West Indies has been on a slow descent. An ICC Champions Trophy was secured in 2004, but that was meagre balm to an archipelago that had seen better days of unchallenged supremacy. Sri Lanka, meanwhile, has been remarkably consistent, but has often stopped short at the finish line, the last being the 2011 World Cup final in Mumbai.Both teams surely have enough factors to inspire them and on Saturday morning, Darren Sammy found a mail in his inbox. The great Clive Lloyd dropped a line to the present West Indies skipper. "The only time success comes before work is in the dictionary. So continue to work hard so we could get success," Lloyd wrote.
The West Indies tends to solely ride on Chris Gayle's shoulders, but the batting solidarity that was seen in the semifinal against Australia, with the likes of Marlon Samuels, Dwayne Bravo and Kieron Pollard lending their weight, augurs well for Sammy. However, the quartet led by Gayle will have to find ways of breaking through the spin-choke that Mahela Jayawardene often unleashes on sub-continental pitches.
Rangana Herath's display against Pakistan has further lent credence to the Sri Lankan skipper's trust in spinners.
The tussle between Gayle and Lasith Malinga will also have a huge bearing on the result. Though Gayle skipped Saturday's practice, Sammy said the opener was fine and ready for the summit clash.
The West Indies attack, meanwhile, will have a bigger headache to cope with as its spin-heavy attack is staring at a rival that has dealt with dime-a-dozen mystery spinners in its own backyard.
Jayawardene's masterly exhibition against the Pakistan tweakers recently is a pointer to the ingenious methods that can be used to unsettle the slow bowlers. Along with Kumar Sangakkara and an off-colour Tillakaratne Dilshan, Jayawardene has to shore up the Sri Lankan innings. The excessive reliance on the top-three is an unhealthy feature of the host's line-up and the West Indies would fancy its chances if it can get these men back in the dugout.
"Be it the West Indies' desire to reclaim its good-old-days or Sri Lanka's itch to prove that it can be more than a bridesmaid in global events, the ingredients are just right for a gripping contest. The fact that Gayle fell meekly in the earlier Super Eights clash that Sri Lanka won at Pallekele, might be a positive memory to fall back on for Jayawardene's men."
The teams (from):
Sri Lanka: M. Jayawardene (captain), K. Sangakkara, T. Dilshan, A. Mathews, D. Chandimal, L. Thirimanne, T. Perera, L. Malinga, N. Kulasekara, Ajantha Mendis, Jeevan Mendis, R. Herath, A. Dananjaya, D. Munaveera and S. Eranga.
West Indies: D. Sammy (captain), Dwayne Bravo, C. Gayle, J. Charles, K. Pollard, M. Samuels, Darren Bravo, S. Badree, F. Edwards, S. Narine, D. Ramdin, R. Rampaul, A. Russell, L. Simmons and D. Smith.
Umpires: Simon Taufel and Aleem Dar; Third umpire: Rod Tucker; Match referee: Jeff Crowe.
Source: The Hindu