Will lead the struggle against the injustice done: Hirunika Premachandra
Posted by Editor on October 13, 2011 - 9:42 am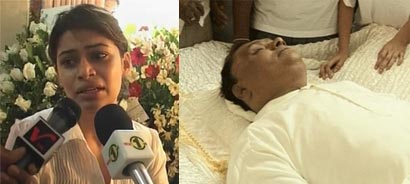 Hirunika Premachandra, the daughter of slain presidential advisor Bharatha Lakshman Premachndra yesterday pledged she would lead the struggle against the injustice that had been done to her father and would continue the services he had rendered during his political career.
Speaking at Mr. Premachndra's funeral at Umagiriya Park yesterday she requested the people of Kolonnawa to join her in her struggle of seeking justice to her father. "Join me in this struggle for the sake of your loving Lucky Aiya," she told the crowds, filled with emotion.
She questioned as to whether her father who was a fearless and honest person should face such a cruel end.
Ms. Premachandra also paid tribute to the others who were killed in the Election Day incident.
She thanked the large crowds who flocked in to pay their last respects to her father. "I salute you loving people of Kolonnawa for coming in numbers to show gratitude to my father," she finally said.
The late Presidential Advisor's son Randiv Premachnadra said their door would always be open for the people in Kolonnawa just as it was during the days of his father. "We will always be there to help you whenever you want," he told the crowd.
Courtesy: DM Online
Latest Headlines in Sri Lanka