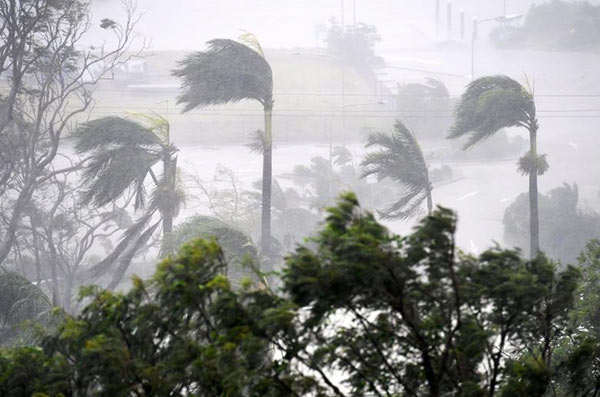 In the early evening of Nov. 29, Ajith Dias, an office worker in Colombo, started receiving warnings on Facebook of a brewing storm nearing Sri Lanka's southern coast.
"It was Wednesday early evening, it was getting dark and cloudy. But there was no (government) warning, at least no warning that I received," Dias said.
By the time the storm – which became Cyclone Ockhi – passed, 13 people were dead and nearly 700 houses were destroyed.
"It was a night from hell," said Dias who spent four hours stuck on the main highway in gale force winds which uprooted trees and sent large billboards flying through the air.
He had one question for the government's Disaster Management Center (DMC) and other public weather officials: "If Facebook users knew of a storm coming, how come you guys could not send out a proper warning?"
Sri Lanka's government-run early warning system has saved many lives since it was set up in the aftermath of the 2004 tsunami, which killed 30,000 people in the island nation alone.
But on several occasions – including in 2011, 2012 and 2016 – Sri Lankans have found themselves facing storms with little warning, according to survivors' accounts.
Improving the early warning system is increasingly important as the island nation is hit by a growing number of disasters caused by wild weather linked to climate change, experts say.
Sri Lankan disaster officials say early warnings are being issued – but may not be reaching everyone.
On the night Cyclone Ockhi hit, government warnings were issued at 3 p.m. and again at 8 p.m., officials said.
"As soon as we got the warning from the Meteorological Department we sent it out to our subscriber base of media, police, (military) and other networks," Pradeep Kodippili, Disaster Management Centre assistant director, told the Thomson Reuters Foundation.
He said the disaster agency did not send the warning directly to the public through text messages or social media networks.
By the time the warnings filtered through the media and other networks, however, the storm was already battering parts of the island's coast.
"A strategic change needs to take place very soon," said Jagath Abeysinghe, president of the Sri Lanka Red Cross Society, which has more than 6,500 volunteers and trained staff who help with emergency and rescue services.
"With climate change we know the weather is going to get worse and in return disasters like floods, cyclones (and) storms are going to increase, and not just increase but increase (in) intensity as well, Abeysinghe said.
"So it's vital that we take the step toward (better) early warning for these disasters," he said.
Sri Lanka's Red Cross says the country has a robust system of alerts and interventions once a disaster begins to occur but is poorly equipped to send out mass early warnings.
The country's 25 million registered mobile phone users can receive government alerts directly once a disaster has begun, and government units under the disaster authority are tasked with early relief operations.
But no such mechanisms have yet been put in place to get early warnings sent directly to communities before a crisis hits.
Abeysinghe said that there is an over-reliance on using military, police, media and other public networks to send out warnings rather than setting up a system that will send messages directly to vulnerable communities.
"The easiest thing … is to set up a (government) SMS command center" which can send out messages directly to all mobile phone users via the mobile operators, he said.
Mobile phone companies should be required to take part in such systems when they are granted operating licenses, he said.
Trained experts could also send alerts directly via Facebook and Twitter, he added.
Dias, the office worker, said that if the president can send out short messages on New Year's Eve to all mobile subscribers in the island, there was nothing preventing the same system being used during national calamites.
Kodippili said the change is one the country's disaster agency will consider.
"That is something that we are looking at," he said.
(Reuters)