Win at LG Polls a stepping stone: JVP
Posted by Editor on February 8, 2018 - 7:23 am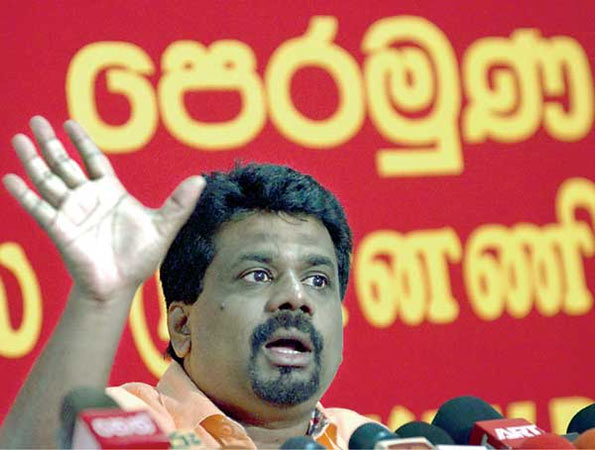 Janatha Vimukthi Peramuna (JVP) Leader Anura Kumara Dissanayake said yesterday even though they would not be able to restore the economy that has collapsed just by winning the Local Government elections, they were using it as a stepping stone to gaining power in 2020.
He told the JVP's final rally held in Maharagama yesterday that its election campaign was a resounding success which would guarantee a remarkable victory for them while the vote base of the UNP, the SLFP and the SLPP were sure to decline at these elections.
He said the JVP's campaign against fraud and corruption during their election campaign had forced other parties to base their campaigns on it as well. He said this was despite the fact that the leaders of these parties, President Maithripala Sirisena, Prime Minister Ranil Wickremesinghe and former President Mahinda Rajapaksa, being engulfed in a cycle of fraud and corruption for the last seventy years.
"Ex-President Rajapaksa said he would not allow members elected to LG bodies from his party to undertake contracts. The Prime Minister was forced to remove MP Ravi Karunanayake as assistant leader of the party. President Sirisena also started bragging about fraud and corruption while keeping fraudsters and corrupt individuals on his stage.
It is the JVP that forced them to centre their election campaigns on fraud and corruption whereas they started with other slogans such as the risk of the country being divided and the Prime Minister issue," he said.
Mr. Dissanayake said that governments that ruled the country so far had been engaged in massive fraud, corruption and misuse of public money and stressed that the JVP was committed to putting a stop to that culture of impunity.
He asked the people to come forward to fight against fraud and corruption by casting their votes wisely at the upcoming polls.
(Source: Daily Mirror – By Ajith Siriwardana)
Latest Headlines in Sri Lanka