World Bank Commends Sri Lanka's Achievements
Posted by Editor on January 27, 2014 - 7:04 pm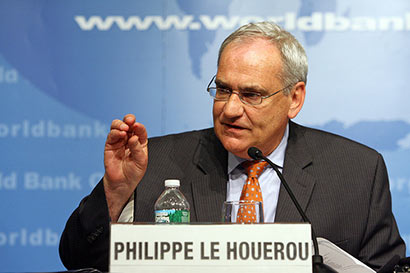 Phillippe Le Houerou, World Bank Vice President for the South Asian Region, who is on a visit to the island commended Sri Lanka for its economic and other achievements when he met President Mahinda Rajapaksa at Temple Trees this morning (27).
During the discussion Sri Lanka's development process and the present and future cooperation between the World Bank and Sri Lanka were highlighted. Mr. Houerou said that after his arrival he had visited the North, the East and several other parts of the country and spoken to government officials and people of all walks of life. "The level of development I have witnessed is highly impressive", he noted.
Mr. Houerou specially commended the high quality of roads that have been recently constructed. Focusing his attention to Sri Lanka's private sector he said that he had met with many bright people with valuable ideas and concepts. He also appreciated services provided by the government hospital in Trincomalee which he had visited.
"Within the short period of less than five years since the end of the conflict we were able to reach a high level of development. In spite of that certain forces and groups are trying to distort the ground situation and apply pressure on the country", President Rajapaksa observed. However, the development process will not be abandoned the President said.
Responding to Mr. Houerou is question "what is your next challenge" President Rajapaksa pointed out that securing more investments is one of his priorities. With political stability, attractive incentives and simplified procedures there is a favourable environment for investment in the country, noted President Rajapaksa.
"The country has a clear vision and directions. What is now needed is to streamline programmes", Mr.Houerou observed. He assured World Bank's continued partnership with Sri Lanka. Information technology, tourism and ports were named as some of the potential areas for investment during the discussion.
Dr. P.B.Jayasundara, Secretary Ministry of Finance briefed the visiting World Bank Vice President on urban development activities in Colombo and other development projects in the rest of the country.
(Courtesy: President Media)
Latest Headlines in Sri Lanka