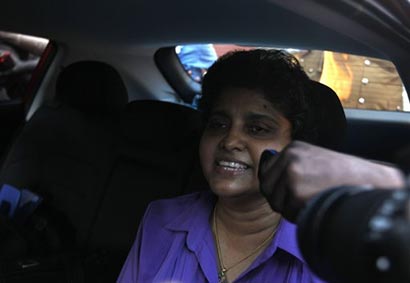 (Reuters) – Leading judges and jurists from around the world, many from developing countries, on Wednesday condemned the Sri Lankan government's sacking of the country's chief justice, arguing it violated international law.
The 44-strong group, all members of the Geneva Centre for the Independence of Judges and Lawyers (CIJL), called for the immediate reinstatement of Shirani Bandaranayake.
At the same time, the head of the Geneva-based International Commission of Jurists (ICJ), which works to promote the rule of law, said the move had set Sri Lanka on the path toward authoritarian rule.
The judges' strictures were issued in a letter to Sri Lankan President Mahinda Rajapaksa and his brother, the speaker of parliament Chamal Rajapaksa from the ICJ and the CIJL.
It was the latest of a series of criticisms from independent organisations and United Nations officials in Geneva since President Rajapaksa last week dismissed Bandaranayake as chief justice and appointed one of his allies in her place.
"We are gravely concerned that the recent action to remove the chief justice have been taken in contravention of the (Sri Lankan) constitution, and international human rights law and standards, including the right to a fair hearing, and the rule of law," the letter said.
Former attorney-general Mohan Peiris, whom Rajapaksa named as new chief justice, was widely known "for consistently blocking efforts to hold state officials accountable for gross human rights violations," it said.
The parliamentary impeachment of Bandaranayake, on which the president based his decision to remove her, and her dismissal "disregarded international standards of judicial independence and minimum guarantees of due process and fair trial," it added.
ICJ Secretary General Wilder Tayler, a Uruguayan lawyer, said in a statement the Rajapaksa administration "has brought Sri Lanka within steps of authoritarian rule, dismantling the system of checks and balances and eviscerating judicial independence."
Reuters