Worst crimes caused by new money in and around Delhi: Chief Justice of India
Posted by Editor on January 3, 2013 - 8:43 am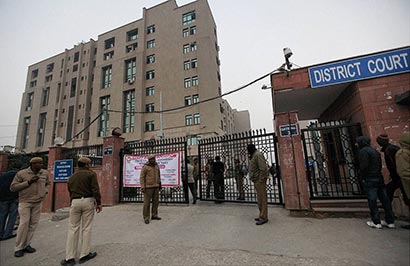 New Delhi: The court in South Delhi which will hear the case of the medical student who died after she was gang-raped on a Delhi bus was inaugurated today by the Chief Justice of India, Altamas Kabir.
The unfathomable horrors inflicted on December 16 upon Amanat (NOT her real name) by six drunk men, all of who have been arrested, stunned the country, not least because the bus that she was traveling through a series of police check points. The bus, in violation of laws, had tinted windows and curtains. Lettering on the side said it was a school bus, but it was not pulled over for inspection.
Public anger was corroborated by near-daily demonstrations for two weeks in Delhi and elsewhere, while she fought for her life first at a hospital in Delhi and then Singapore.
"If the Supreme Court directive to remove tinted glasses (from buses) was followed strictly this may not have happened," the Chief Justice said. "Delhi is surrounded by areas which were villages," he said, adding, people have "so much money now they don't know what to do with it….most of these offenders come from the lowest or highest echelons of society."
"The incident of December 16 happens every day," the Chief Justice said. "A ten-year-old Dalit girl was gang-raped and set on fire the same day," he said.
"The immediate reaction of people has been that don't put these persons to trial, hand them over to us, we will deal with them, hang them.
Now these kinds of sentiments, which are emotional, are rather dangerous sentiments. But these emotions will continue until the matter comes to us and we deal with them expeditiously," Justice Altamas Kabir said.
Initially barricaded from public sorrow and rage by inexplicable reserve, the government eventually course-corrected by asking for five fast-track courts to be set up in Delhi to handle cases of rape and sexual assault. The notoriously slow legal system has so far abetted in the perception that there are few deterrents for those who sexually assault or harass women -last year, of the nearly 600 rape cases reported in the capital, there was just one conviction.
"The students came out in protest for this case of the 23-year-old victim's case," Justice Kabir said. "Their anger has to be contained," he said.
The court he inaugurated today will hold daily hearings for Amanat's case. The police will tomorrow share a 1000page chargesheet against the five men accused of raping and murdering her; the sixth is a minor and his case will be handled by a juvenile justice court, unless a bone test finds he is 18 or older.
NDTV
Latest Headlines in Sri Lanka