'One Sri Lankan nation' – Namal
Posted by Editor on January 3, 2013 - 7:06 am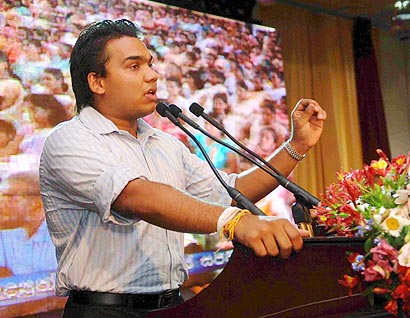 FILE PHOTO
Hambantota district parliamentarian and Tharunyata Hetak Organization chairman Namal Rajapaksa yesterday said that youth should not feel constrained to forge links with their counterparts in other communities.
"Whether it is access to education, livelihood or any other matter, involved with day to day life no youth should feel that they are being discriminated", he added. MP Namal Rajapaksa was delivering the key note address at the national conference on the role of youth in reconciliation, organized by the Lakshman Kadirgamar Institute of International Relations and Strategic Studies yesterday.
He added that youth are being empowered to ensure that upheavals such as ones that destroyed the nation will never happen in the future.
He stressed that youth are the lifeblood of a country and the perceptions they carry into their adulthood will determine whether a nation will prosper or not. Rajapaksa added that President Mahinda Rajapaksa has allocated Rs. one billion for the implementation of Lessons Learnt and Reconciliation Commission recommendations for 2013. He expressed optimism that bulk of the activities recommended by the LLRC will be completed by 2013.
The Parliamentarian said that Sri Lanka has laid much focus on understanding the concept of reconciliation applicable to its situation. He added that all Sri Lankans irrespective of their racial and other petty differences desires a united Sri Lanka.
"One Sri Lankan nation is their ultimate goal. Every one of us wants to achieve this goal in the years to come," he added. Parliamentarian Rajapaksa added that the government wants every Sri Lankan citizen to be treated equally with no discrimination. "There will not be discrimination against anyone just because a person does not belong to the majority community", he said.
Rajapaksa added that the vicious elements that are in the process of discrediting Sri Lanka have used this in a vicious manner. He noted that women, children and the youth have to bear the brunt of the ill effects of the conflict and they will have to play the key role when it comes to the reconciliation too.
"Society should understand that youth who fall victim to ideological campaigns masterminded by adults are finally labeled as militants", he added. He said that these youths find it very difficult to become the agents of peace and reconciliation quickly. "When they are asked to be agents of peace it becomes extremely difficulty for them to switch to new paradigms quickly, he added.
The Parliamentarian said that post conflict reconciliation takes long time to happen on ground and youth need to be patient in being key actors of this national effort. He added that youth do not have preconceived notions about ethnicity or any other divisive parameter. Parliamentarian Rajapaksa noted that sports arena is dominated by the youth and there is no discrimination whatsoever on the lines of ethnicity .
"What mattered was whether one was an accomplished player and nothing else in sports", he added. He said that sports can be used as a vehicle to inculcate the spirit of reconciliation in the minds of youth.
A token of appreciation was presented to Rajapaksa by LKIRSS chairman and External Affairs Minister Prof G. L. Peiris. LKIRSS Executive Director Asanga Abeyagoonesekera, Head Internantional Centre for Political Violence and Terrorism Research Singapore Prof Rohan Gunaratna also spoke.
LKIRSS Director Sugandhi Kadirgamar, members of the diplomatic corps were also present.
Courtesy: Daily News
Latest Headlines in Sri Lanka