'Nation will be enthroned to position of greatness'
Posted by Editor on October 20, 2011 - 9:09 am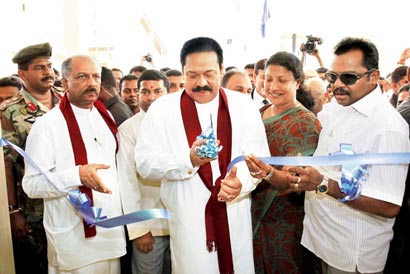 The government will bring the Lankan nation to a position of greatness in the world by implementing the policy of Mahinda Chinthana, the Vision for the Future.
"It will establish a better future for you and your children, and the country will be taken forward with more courage, strength and confidence," said President Mahinda Rajapaksa. He was addressing a gathering at Vavunathivu, Batticaloa yesterday after commissioning a mega water project. President Rajapaksa said his government always stands by the people to build a better future for all communities.
The President was warmly welcomed when he reached the venue by thousands of people who were awaiting his arrival. This was the first visit of a Head of State to the area after many decades.
The President said the government was always engaged in uplifting the living standards of the people.
"Yet, it is regrettable that certain politicians want to keep people destitute. No one is kept destitute by this government as it is a people-friendly government," the President said. President Rajapaksa added that this water treatment plant is the second largest water project in the country. No such water treatment plants are available even in the Southern province. "That is the way the government treats the people of the North and East who were badly affected by terrorism." Millions of rupees worth of funds are allocated to such fruitful development activities. The government has been engaged in a massive development initiative covering the entire country.
"Neither the North nor East is an exception," he said. The President further said each individual in the country is now experiencing the freedom and enjoying the fruits of development. President Rajapaksa asked the people of the area to visit other parts of the country and get first-hand experience on the ongoing development activities. He noted that any issue can be settled by cordial discussions. Much of our expenditure is allocated to the development activities in the North. The Uthuru Vasanthaya and Negenahira Navodaya programmes that target the development of the North and East complement the country's well-executed development venture.
He further said a dream of the people in Batticaloa has come true with the commissioning of this water project since the people have been badly affected by the scarcity of water for decades.
The water project fulfils the water requirement of 246,000 people in 1,378 families in the Batticaloa district. With the financial assistance of Asian Development Bank, the government has allocated Rs 11,000 million for the project.
Courtesy: Daily News
Latest Headlines in Sri Lanka