"I support in enhancing long established UK-Sri Lanka relationships", says new British Deputy HC in Colombo
Posted by Editor on August 9, 2011 - 8:13 pm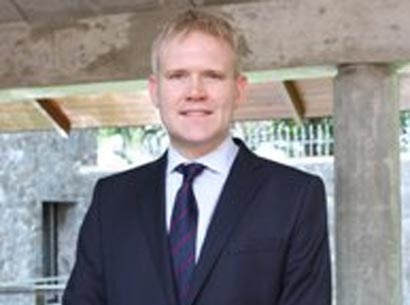 Onlanka News – By Janaka Alahapperuma
New British Deputy High Commissioner to Sri Lanka Mr Robbie Bulloch said "I'm delighted to take up post as Deputy High Commissioner (DHC) in Colombo at a time of such great potential for Sri Lanka.  I look forward to supporting the High Commissioner and the rest of the team in enhancing long established UK-Sri Lanka relationships." He made these remarks when he assumed his duties as Deputy High Commissioner to Sri Lanka recently.
Robbie Bulloch replaced the DHC vacancy created after left Sri Lanka. Ex- teacher and a probation officer in London, he has a first class degree in English and Hispanic studies from Queen's University in Belfast and a Masters degree in English from King's College, London.
Robbie joined the UK Home Office in 2000 and worked in various posts covering criminal and correctional policy, extradition and migration. He also undertook a short-term assignment to the European Commission in Brussels in 2002-2003. In 2004, he left Home Office and worked as a Team leader in the EU Directorate of the Foreign and Commonwealth Office (FCO) in London until 2005.
He has also worked as Foreign Affairs adviser from 2005-2007 to the British Deputy Prime Minister, John Prescott, which included work on the UK Presidency of the EU, UK relations with China, Trade, Climate Change and Sustainability. He has worked in different areas within the FCO.
Prior to this appointment, Robbie served at the British Embassy in Madrid since 2007, where he was Deputy Head of the Political section and First Secretary for Justice and Home Affairs.
He is accompanied in Colombo by his wife Kirsty and their three children.
Source: BHC-Colombo
Latest Headlines in Sri Lanka