"Stop targeting me on Sri Lanka issue" – Karunanidhi
Posted by Editor on June 13, 2011 - 4:48 pm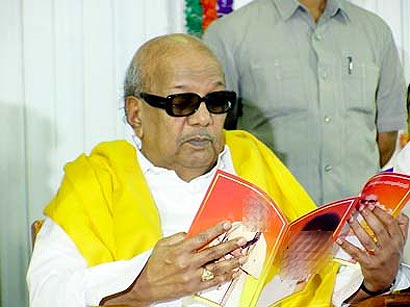 Former Chief Minister and Dravida Munnetra Kazhagam president M. Karunanidhi has appealed to his political adversaries to stop targeting him on the Sri Lankan Tamil issue while enthusiastically welcoming the resolution passed by the Tamil Nadu Assembly calling for economic sanctions on the island nation and declaration of those who committed crimes during the war as war criminals.
In a letter in the party mouthpiece 'Murasoli', he wondered why several people had chosen to make disparaging remarks against him while speaking on the resolution, which dealt with "atrocities" perpetrated by the Sri Lankan government on the Tamil population there. He lamented that all his initiatives aimed at bringing about an end to military operations had been described as a "farce" or a "fraudulent drama" by Chief Minister Jayalalithaa. Mr. Karunanidhi recounted his contribution to peace and welfare of Sri Lankan Tamils since 1956. Both DMK general secretary K.Anbazhagan and he resigned from the State Assembly in 1983 in order to draw the Centre's attention to the problem.
He also recalled his efforts to get the help of the Central government in finding a lasting solution to the Sri Lankan Tamils issue through the 1990s. Besides, in 2008, the State Assembly passed a resolution urging the Union Government to arrange for a dialogue and help bring about peace through a political solution.
Also in 2008, Mr. Karunanidhi said, he had taken up the issue of genocide of innocent Tamils in Sri Lanka and wanted Prime Minister Manmohan Singh to intervene and put an end to the army action against them. Once again in 2009, a resolution was passed in the State Assembly wherein he had announced that he was prepared to sacrifice power if it could lead to the birth of Tamil Eelam, he said.
At the same time, the DMK leader alleged that it was Ms. Jayalalithaa, who had been ridiculing his efforts all along. She had even said that there was suspicion among the people of Tamil Nadu whether Mr. Karunanidhi was acting in support of the Liberation Tigers of Tamil Eelam. Besides, she had asserted that the Central government had no powers to stop the internecine war in Sri Lanka. "Then how is that she now moves a resolution in the Assembly appealing to the Central government?"
Mr. Karunanidhi said she had once asserted that the Sri Lankan army was not deliberately killing innocent Tamils and that "it is quite natural that innocent people also get killed during times of war." After saying so without any compassion, she had now chosen to move a resolution as if she was genuinely interested in the welfare of Sri Lankan Tamils, the DMK leader said, The Hindu reports.
Courtesy: Ada Derana

Latest Headlines in Sri Lanka