15,000 tonnes of substandard petrol imported
Posted by Editor on October 2, 2013 - 8:47 am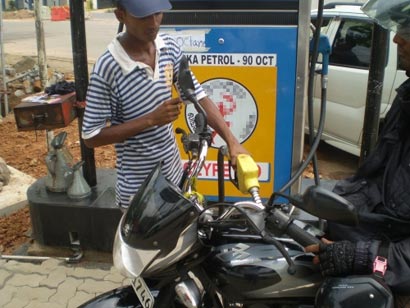 Ananda Palitha, the secretary of the Ceylon Petroleum Corporation (CPC) chapter of the Jathika Sevaka Sangamaya (JSS) alleged that a consignment of 15,000 tonnes of substandard petrol (90 octane) had been imported and was scheduled to be pumped to the Muturajawela Oil Storage facility on Sunday.
He said the imported 90 octane petrol was not up to Sri Lanka's quality requirements and had failed two tests carried out by the Ceylon Petroleum Corporation.
40,000 tonnes of petrol and diesel fuel had been subjected to preliminary tests, and 5000 tonnes of 95 octane petrol and 20,000 tonnes of auto diesel fuel had passed the tests, he said.
Ceylon Petroleum Corporation sources said the corporation had objected to the unloading of the 90 octane stock after laboratory tests indicated that it was substandard.
The CPC had objected to the unloading of stocks of petrol several times in the past after samples were found to be substandard, the sources further said.
However, the CPC assured the general public that there would be no fuel shortage due to the rejection of the stock of petrol.
(Courtesy: DM Online)
Latest Headlines in Sri Lanka