157 Lankan asylum seekers having challenge heard in Aussie HC
Posted by Editor on October 14, 2014 - 10:22 am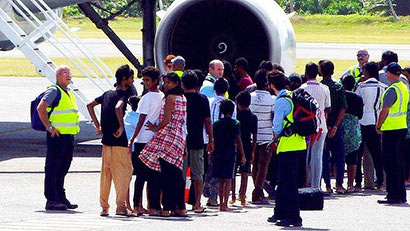 The validity of an Australian law used to detain 157 Tamil asylum seekers at sea in June is under the spotlight in the High Court in Canberra. The group, which included 50 children, set out from Pondicherry in India after fleeing Sri Lanka some time earlier.
They were intercepted at sea and taken aboard the Australian Customs ship the Oceanic Protector.
Lawyers for the 157 Tamils, now held in the Nauru detention centre, say their clients were falsely imprisoned on the ship for a month and are contesting the Government's power to detain them.
They were separated and kept in windowless rooms on the ship, and let out for three hours to exercise and eat while their case was heard in the High Court.
In one of the directions hearings, High Court Justice Kenneth Hayne noted the act seeks to apply the law beyond Australian territorial waters and raised issues not considered before.
A failed attempt to return the group to India saw them transferred to Nauru via the Cocos Islands and the Curtin detention centre in Western Australia.
The Human Rights Commission and the United Nations High Commissioner for Refugees were both seeking to join the case, which runs over two days.
The Human Rights Law Centre's Daniel Webb said the outcome could have serious implications for the Government's asylum seeker policies.
"In particular, the court will look at the Government's power to detain people at sea and then take them elsewhere and consider whether that's a power that needs to be exercised fairly; whether that's a power that needs to be exercised with due consideration for individual circumstances," he said, ABC reports.
Latest Headlines in Sri Lanka