194 displaced families to get land rights
Posted by Editor on April 18, 2016 - 8:59 am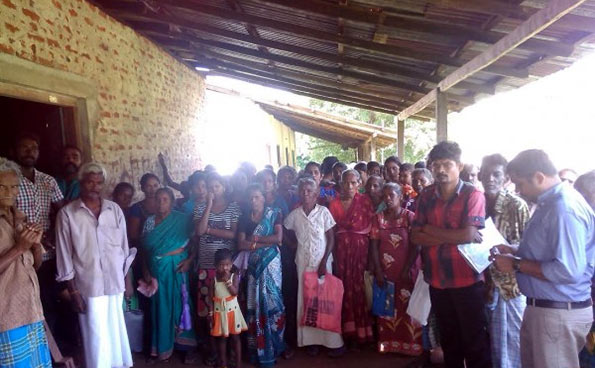 194 families of the Chithambarapuram camp of Internally Displaced Persons will get land ownership of the area they have been occupying tomorrow,(19) the Hindu reports.
Tuesday (April 19) is going to be a special day for 194 families of the Chithambarapuram camp of Internally Displaced Persons (IDP), about 20 km from the Vavuniya town in the Northern Province. The day will mark a partial fulfilment of the longstanding demand of the families — concerning the ownership of the area that the IDPs have been occupying.
Uthayakumar (26), a worker in a rice mill in Vavuniya, and Devika are among those who have been staying in the camp for years. The former says he came there when he was three. Devika came to along with her two daughters 13 years ago, after she was deserted by her husband. They are both happy that IDPs like them will get land ownership.
Though the condition of the camp will not impress any outsider, Devika says the IDPs have got used to living there and that everything is available in the neighbourhood to take care of day to day needs. "The thought of leaving the place doesn't strike us," she says. Temporary land permits will be issued to the families on Tuesday. This will provide them with some degree of economic empowerment, says K. Uthayaraj, local Divisional Secretary in the Northern Provincial Council (NPC), adding that some of the IDPs have nearly spent 30 years in Chithambarapuram.
By a draw of lots, the sites have been allotted to the families. Each family will get 60 perches of land (equivalent to 16,500 sq. ft.).
The families, displaced from various parts of the Province during the civil war, do not own lands in their places of origin. This is why they have decided to stay in the camp, even though several other hundreds of families, which were once accommodated there, moved out after the return of normality.
"It will be for the first time in Sri Lanka that land rights will be provided to the IDPs for the sites that they have been using," says the official.
The NPC administration has released Rs.13.5 million to the divisional secretariat to take care of immediate requirements, says S. Thiruvakaran, Secretary in charge of Health and Rehabilitation departments. When pointed out that some of the allottees have complained about access to their new sites, officials express hope that these issues will be addressed in due course. As for the issue of permanent housing, officials are confident that all the families can be accommodated in the Central government's new programme of 65,000 houses.
Meanwhile, a release issued by the Rehabilitation Ministry of the Central government on Sunday stated that so far, over 32,000 persons from the Jaffna district and 8,500 from Vavuniya applied for the proposed housing scheme, the Hindu reports.
Latest Headlines in Sri Lanka