19A shuts out Gota
Posted by Editor on April 30, 2015 - 8:34 am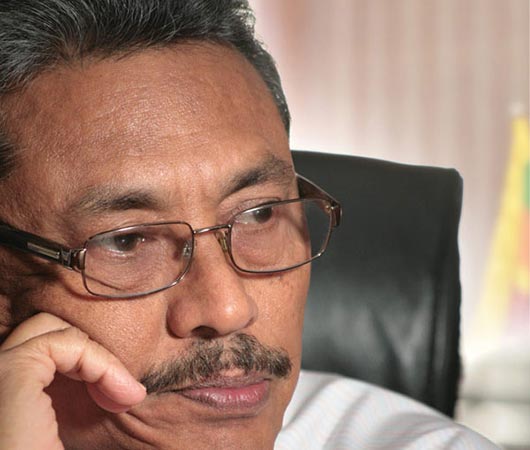 The 19th Amendment to the Constitution, which was passed in Parliament on Tuesday with an overwhelming majority, has barred former Defence Secretary Gotabhaya Rajapaksa from contesting Parliamentary elections.
The section of the 19th Amendment disqualifying dual citizens from becoming Parliamentarians remained unchanged during the Committee Stages of the debate.
When contacted by the 'Daily News', Immigration and Emigration Department of Sri Lanka yesterday confirmed that the former Defence Secretary is a dual citizen.
Therefore, the 19th Amendment disqualifies him from contesting the forthcoming Parliamentary election as a candidate of any registered party or independent group.
Rajapaksa spent over 10 years in the US after he retired from the Sri Lankan Army of which he was a Lieutenant Colonel.
He returned to Sri Lanka in 2005 to assume duties as the Secretary of Defence after his brother, Mahinda Rajapaksa became the President.
It was in the grapevine among political circles over the past few days that several extremist Sinhala-Buddhist political organizations were planning to field former Defence Secretary Gotabhaya Rajapaksa as a candidate at the next election. In an interview with a website recently, Rajapaksa himself said that he might enter politics in the near future. Legal experts state that the former Defence Secretary should do away with his American citizenship if he intends to contest the next election. However, former Economic Development Minister Basil Rajapaksa has no legal barrier to contest the Parliamentary election as he is not a dual citizen. Sources close to the former Minister told the Daily News that he was only a green card holder.
A constitutional expert Jayampathy Wickramaratne told the Daily News yesterday that Basil Rajapaksa has no constitutional barrier to contest the election if he is a green card holder.
Basil Rajapaksa has already been prosecuted by the Police Financial Crimes Investigations Division in connection with misappropriation of 'Divineguma' funds.
(Daily News)
Latest Headlines in Sri Lanka