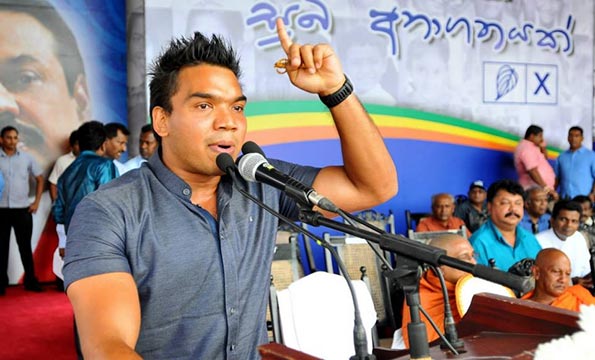 Former president's eldest son and the Rajapaksa clan's heir apparent, MP Namal may have voted himself out of the 2021 presidential election by supporting the 19th amendment to the constitution.
The latest amendment raised the minimum age of a presidential candidate to 35 years, up from the earlier 30 that would narrowly disqualify Namal Rajapaksa from entering the next presidential election due in January 2021.
Born on 10th April 1986, Namal will complete 35 years of age three months after the next presidential election. The five year term limit on the presidency kicks in only from 2021.
Rajapaksa loyalists tried to block many provisions that sought to limit the powers of the executive, but surprisingly did not object much to the age barrier that would clearly keep Namal out of contention in 2021.
Even Namal himself said "aye" to what would effectively work against him.
One legislator was heard to ask facetiously whether the move was to block 'Vimuthi'.
The youngster bettered his father's record by becoming the youngest MP in Sri Lanka's parliament when he entered the legislature as a representative from the district of Hambantota in January 2010, three months before turning 24.
Justice Minister Wijayadasa Rajapakshe told the assembly that they decided to raise the age limit of a presidential candidate because the country needed a "mature person" to lead the country.
(Economy Next)