2012 Welikada riot Govt. should investigate delay at Justice Ministry
Posted by Editor on August 20, 2016 - 9:03 am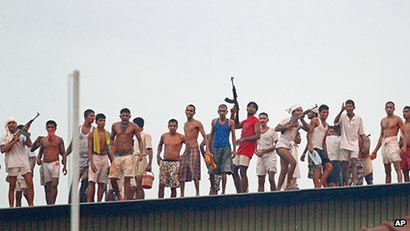 Good governance activists called on the Government to investigate the delay of the Ministry of Justice to inform the relevant authority or authorities of the course of action to be taken with regard to meting out justice for the 27 killed at the Welikada Prison in 2012.
Allegations have been levelled against former Defence Secretary Gotabaya Rajapaksa for his involvement in the riot.
Nawa Sama Samaja Party Leader Dr. Wickremabahu Karunaratne said that so many decisions taken by Gotabaya Rajapaksa had resulted in injustices to many, adding that therefore the Government should take action against him and give the necessary punishments and see that his decisions are corrected.
Previously in July, Deputy Inspector General of Police Priyantha Jayakody told Nation when queried that it was up to Minister of Justice President's Counsel Dr. Wijeyadasa Rajapakshe, as the appointing authority of the Committee of Inquiry into the Prison Incident 2012 (CIPI) which inquired into the 2012 Welikada Prison riot to publish and release the said Committee's report.
A three-member Committee, chaired by retired High Court Judge, Wimal Nambuwasam, was appointed by Dr. Rajapakshe to look into and investigate the state-sponsored killings which claimed the lives of 27 prisoners, inmates and detainees on November 09, 2012 and November 10, 2012.
"We demand that the Government intervene and investigate. The Committee's recommendations must be carried out in a manner satisfactory to all. The Government should see that justice is done. The Committee may have recommended that the matter be forwarded to the Attorney General or a particular Ministry or the Police," Dr. Karunaratne remarked.
(Source: The Nation)
Latest Headlines in Sri Lanka