512 Brigade of SL Army offers scholarships to ten more students in Jaffna
Posted by Editor on November 3, 2011 - 10:12 am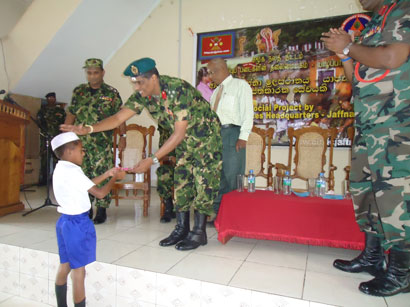 Onlanka News – By Janaka Alahapperuma
Sri Lanka Army- Security Forces Head Quarters in Jaffna has launched another social project to help students from poorer backgrounds by providing ten scholarships in Jaffna recently. This is one of their ongoing educational and social projects to encourage students who face financial difficulties in the area. So far Security Forces Head Quarters in Jaffna has completed hundreds of such projects from funds donated by Sri Lankan armed personals, organizations, businesses and local and foreign donors.
Ten students who are in need of financial assistance to continue their school education received scholarships from the 512 Brigade of Security Forces – Jaffna on Tuesday 29 October during a function held at Jaffna Central College.
Those students were selected from families with recommendation of principals and Grama Niladharis of the areas. In this particular project donors have given a monthly allowance of Rs. 1000 per month for seven students and Rs. 500 per month will be given to other three students. Money will be deposited in their accounts and facilities have been provided for them to withdraw monthly at the nearest bank.
M.M. Hasaham and R. Razana of J / Osmaniya College, K. Vagipan and P.J. Jenthila of J / Karappan Little Flowers Girls' College, R. Viniya of J / John Bosco College, S. Siva Kumar of J / Central College Jaffna, T. Jayaluxman of J / Veddathivu School, A. Vijisaran and G. Sherupa of J / St. Charles College and S. Selvaraja of J / St. James' Maha Vidyalaya were the recipients of scholarships offered by the Army.
Officers and Senior Non Commissioned Officers of the 17th Battalion Gemunu Watch, Mr. S.M. Navaz, Mr. Mohammad Ilshan, T. Vasundara Thangeswari, Mr. Muthu Balasuriya and Mr. R. Shashi Kumar of Jaffna, Ms. Malani Kodithuwakku of Colombo and Ms. Priyanthi Liyanage of Kurunegala have joined hands with the Civil Affairs Office of the 512 Brigade to sponsor the scholarships.
The ceremony organized to hand over the bank pass books with initial deposit was attended by the General Officer Commanding 51 Division Brig. Piyal Wickramarathne, Deputy Secretary Provincial Ministry of Education, V.T. Selvaratnam, Commander 512 Brigade Colonel Channa Weerasooriya and some scholarships sponsors.
The monthly donation given as scholarships for students who are in need of financial assistance is different from the contribution received by the respective donors.   If you, your organisation or the company would like to contribute towards these scholarships please do contact directly Sri Lanka Army Security Forces Head Quarters in Jaffna.
Latest Headlines in Sri Lanka