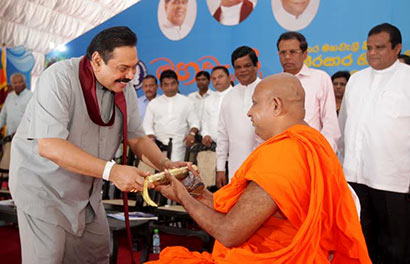 – by Janaka Alahapperuma –
5550 farmer families in Mahaweli B and C Zones received ownership deeds today (April 19) at a ceremony held at Girandurukotte under the patronage of President Mahinda Rajapaksa. The President handed over the land deeds for the Mahaweli farmers under the 3rd stage of the National Programme of Presentation of Land Deeds. The programme is implemented according to a pledge given by the President in response to a request made by Mahaweli farmers at a meeting held at Dehiattakandiya. The distribution of these lands among the farmer families commenced on the 31st of December last year.
Addressing the ceremony the President pointed out that some who are considering development as a joke were attempting to create chaos and reverse the country. The development that is mooted in the country by the present administration to prosper the lives of the nation and some people are attempting to create unnecessary confusion. The President further emphasized that the people will not permit anyone to reverse the development programmes which are targeted at transforming the country into a 'Wonder in Asia'.
Under this programme 45,000 land deeds altogether are to be presented and 5500 of them distributed at today's function. The land deeds presented to farmers in the villages of Aralaganvila, Dimbulagala, Manampitiya and Welikanda in the Mahaweli B Zone and farmers in the Dehiattakandiya, Girandurukotte, Mahiyanganaya, Navamedagama, Mahawanawela and Sandunpura in Mahaweli C zone. Earlier the Mahaweli Authority distributed lands to 2000 farmer families in the Mahaweli G and H zones. The Director General of the Mahaweli Authority Gamini Rajakaruna said that already ownership land deeds have been distributed to 140,000 Mahaweli farmer families and the deeds will be distributed to another 35,000 families this year.
Venerable Maha Sangha, Ministers, parliamentarians, local politicians and officials were present at the occasion.
Pix by: Chandana Perera