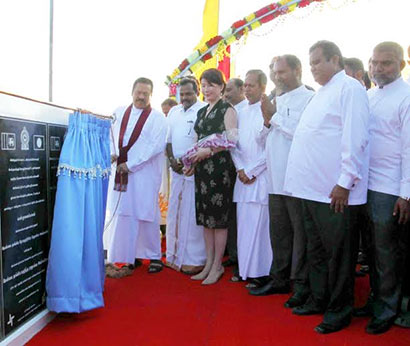 – by Janaka Alahapperuma –
President Mahinda Rajapaksa declared open the newly constructed Manmunai Bridge in Batticaloa this afternoon (19 April) marking another milestone in the country's development. It connects the Batticaloa and Ampara Districts. This new bridge across Batticaloa lagoon on Colombo-Batticaloa A4 road via Pothuvil has been constructed at a cost of 1,870 million rupees fulfilling a long felt need of the people in the Eastern Province.
It also connects the provincial road network on both sides of the lagoon which will provide alternate route to other areas. Until the construction of this new bridge, the people used the ferry service to cross the lagoon. The new bridge is 210 meters in length and 9.8 meters in width. In line with the construction of the bridge, a new causeway with an average length of 488 meters and 10 meters in width has also been constructed on either side of the bridge
It has been constructed with assistance from the Japanese Government and 1,473 million rupees have been presented as a grant aid through the Japan International Cooperation Agency (JICA).
The Road Development Authority said that with the construction of the new bridge, the transport difficulties hitherto experienced by the people will be overcome. Farmers as well as traders will immensely benefit. A JICA official said that the Manmunai Bridge marks the 60 years of diplomatic relations between Sri Lanka and Japan
Acting Japanese Ambassador Asako Uthayo, Ministers, Parliamentarians, local and provincial politicians, distinguished guests and officials were present at the occasion.
Pix by: Chandana Perera